What to Pack for a Motorcycle Trip
Posted On: Oct 17, 2018
With so many great landscapes to explore, riding motorcycles in the United States of America is incredibly fascinating and enjoyable. Being such a large country there is almost every kind of riding imaginable— from the twisty mountain passes of the Rocky Mountains to the flat grasslands of Oklahoma, from the curvy Pacific Ocean highways to the sweeping Cherohala Skyway in the mid-Atlantic region. America has been called the land of the free and the brave, which could also be called the credo of motorcyclists everywhere.
If you have a packing checklist on your fridge and have everything in perfectly organized pouches for every trip you take, we are all jealous of you! Most riders are not like that and the question of what to pack comes up for every trip.
We have narrowed down the items that we know will make your ride an enjoyable one while ensuring you have only what you need. The key to enjoying yourself along the way is early preparation, planning, and effective space management.
Let's look at the essentials to bring on the road.
A LOT DEPENDS ON 4 KEY FACTORS
How long the trip is - we all can agree that you will pack less stuff for a shorter trip. A day ride doesn't require as much gear as doing a 2-week or a month long trip. So the first thing to consider is the length of your ride.
How much space you have - you will be limited to the available storage space on your motorcycle unless there is a support van carrying the luggage for you and the group. All of EagleRider guided tours include a support can, a spare bike, cold water, and a first aid kit. On the opposite, a backing camping trip requires you to carry everything on your bike.
Trip location and terrain - what you pack for a ride to Baja California on a dual sport bike can be very different from packing for a Route 66 trip on a touring bike. You may choose a different type of protective gear, for example.
Riding solo or with a passenger - if you have a second rider on your bike, how light you pack can be crucial. On top of that, chance are your passenger will always pack more stuff than you.
A FEW THINGS THAT WILL ALWAYS BE TRUE
Weather conditions can change quickly - No matter where you ride, weather can be very unpredictable. You can start your day on a frosty morning in Bryce Canyon in mid-May, ride through Zion where the temperatures will start increasing dramatically and then end the day with a 70-mile highway ride to Las Vegas where it will be even hotter.Rain, the extreme heat of the deserts, gusty winds, and other dramatic weather changes can affect your ride and what you pack.
Road conditions are often an unknown - not the most important consideration for packing, but definitely a helpful thing to keep in mind is that you may not always know when you have to take a service or fire road, or when you'll be riding on an old bumpy or brick stretch of the road. You want to make sure you can always balance the motorcycle well and how much you pack can affect this.
There will always be something you forgot to bring - it's one of those things that happens to all of us - you hit the road without some essential you really need. No matter how prepared you think you are, there is at least a small chance that you may have to buy something along your trip. For this, the only thing you'll need is a credit card or cash, possibly the most essential thing to pack of all!
POPULAR STORAGE OPTIONS AND STORAGE CAPACITY ON VARIOUS MOTORCYCLES
Before we move on to the checklist, let's look at the storage capacity on the popular motorcycle.
If you need more information about a specific motorcycle, please take a look at the our motorcycle rental page for each specific model where we provide all the essential specs. OEM website will be your ultimate source of everything on each specific model.
Saddlebag liners - typically measuring 18″ x 6″ x 10" (or 17.5 liters) each, saddle bag liners are a very convenient way to quickly put in and take out luggage. You can simply take these to your hotel room every night. Most of EagleRider locations offer these for purchase when you arrive for your trip. Harley-Davidson® Street Glide®, Harley-Davidson® Road Glide®, and Harley-Davidson® Road Glide® Special all have hard case saddlebags.
Tour pack liners - typically measuring 15" x 21" x 8" (or 41 liters) these liners are very handy, but you can also just as easily fit any carry-on size bag. Most airlines limit the carry-on size to 40 liters. Motorcycles such as Harley-Davidson® Electra Glide® Ultra and Harley-Davidson® Road Glide® Ultra come with these tour packs and offer this additional storage.
And for add-on storage bags that can be attached to the back seat or a sissy bar, we have a new option.
INTRODUCING THE EAGLE PACK
For motorcycles that don't have a top case for storage we are now offering an add-on called the Eagle Pack. At 73.5 liter capacity and expandable sections, this travel bag is an amazing companion that's sturdy, well-made, and give you that additional storage space you do now have on motorcycle models such as Harley-Davidson Street Glide.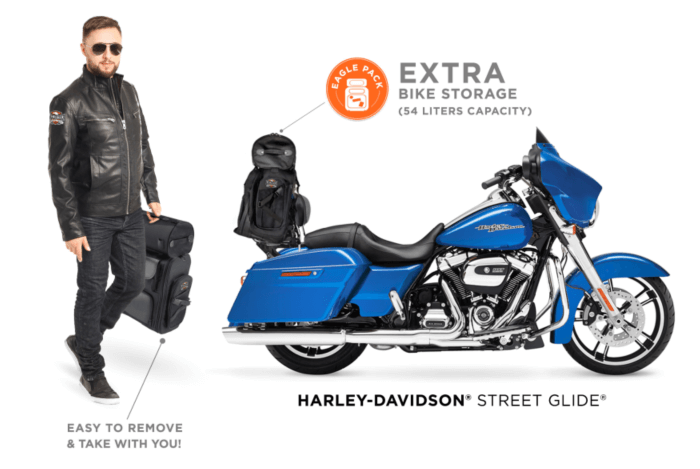 Eagle Pack costs $149 and you can take it home after your rental is done. So once you add it to the rental reservation, it's yours to keep and enjoy on your own bike and your future rentals.
To add the Eagle Pack to your booking, visit the reservations add-on page and select the Eagle Pack option before proceeding to checkout. Our rental team at the location will be notified that you've added it to your trip will be ready for your pickup.See more information about the Eagle Pack in another blog post.
PACKING CHECKLIST
EagleRider provides standard half-shell "Harley-style" helmets at no charge to all riders and passengers, but you are of course welcome to bring any of your own personal riding gear with you on the trip.
If you require a newer helmet, ¾ helmet, or full-face helmet, please arrange to purchase one locally at EagleRider, or bring it with you. If you require communication systems (Intercoms) please arrange to purchase one locally at EagleRider, or bring it with you.
All riders on EagleRider rentals and tours are required to wear a helmet at all times.
While riding in leathers with no helmet and showing lots of bare skin was popularized by movies like Easy Rider, the fact is that it's safer and more comfortable to ride with protective gear.
Cold Weather Jacket(s) – For trips at the beginning or end of our summer riding season, we recommend a "Layering' system of base layer of wool or Capilene (synthetic) shirt, wind jacket, and cold weather jacket

Windproof / waterproof pants

Cold weather riding boots, socks, and gloves
Wearing protective gear not only protects you should the worst happen, but also protects you from the elemental forces of sun, wind and rain and their attendant dehydration, sunstroke and hypothermia. These days there are excellent choices in leather, textiles and high tensile nylons that are not only superbly comfortable, but also offer first-rate protection.
Riding pants are useful because they give riders a better grip on their seats, and the ones with built-in pockets for armor are an excellent choice because of the added protection they offer. The best pants come down and cover your over-the-ankle boots, providing complete protection all down the rider's leg.
Leather boots with heavy soles and without laces are the best option for motorcycle riding because they protect feet from abrasive asphalt and don't get caught on the pegs during starts and stops of the motorcycle.
The main impact points during a crash are the head, shoulders, hips, hands and knees, so wearing gear that not only covers these vulnerable points but also offers impact-resistant padding is your best bet should the worst happen.
Wearing quality gloves protects your hands' sensitive skin from hard surfaces. Quality motorcycle gloves have full fingers, palm protection and ideally some hard knuckle protection. Mesh summer riding gloves are available on the market now, and are a terrific choice for bridging the gap between protection, comfort and coolness.
On the longer trips, rain is something you can definitely expect. But what about day rides when you try to pack light and just enjoy the road? It's definitely a great visual, but the reality can sometimes be unexpected.
Lightweight rain suit –Weather can be unpredictable even in the warm summertime, so we definitely recommend having a rin suit stored in your saddlebag
Most of EagleRider stores carry a least a few options of rain gear. You are welcome to bring your own, but can also count on buying it locally ahead of the trip.
Although the number of layers depends on the location of your ride and the season, it's always a good idea to pack several layers of clothing to wear under your gear. In the mountains there can significant elevation changes, which means considerable changes in temperatures.
In the plains and deserts the days start of cool and warm up quite quickly, so you'll want to wear either a base layer or some other thermal protection that can be shed easily. Riding in the American West storms can brew up quite quickly, so it is always a good idea to have your rain layers easily accessible as well.
Long-sleeve white t-shirts
Some type of face covering (i.e. bandana) for desert crossings
Swim trunks, shower sandals
Long sleeve and short sleeve shirts, warm weather shorts
With the wind on your bare skin it's easy to get dehydrated and/or not to notice that you are getting sunburned. Mesh gear is widely available in the USA now, and these garments have quite good air cooling.
Also widely available now are cooling vests and collars—while not actually protective gear, they do make such gear more comfortable while riding by employing evaporative cooling techniques.
We all have the essentials that provide the daily comfort on the road and for an overnight stay. Even though you may want to add more to this list of daily use items, here are the most common and widely used things we recommend to bring.
Personal hygiene (toothbrush/toothpaste, comb/hairbrush, razor, tweezers, deodorant)
Ear plugs, sunglasses/eye protection, sunscreen (recommend 35 SPF or greater)
Eye protection/clear glasses for evening riding or cloudy days
Wool or Capilene socks, underwear, gloves
Neck scarf/bandana/tube for protection from neck sunburn
Bungee straps or cargo net
We often find comfort in the little things. Riding on the open road is an experience that takes you away from all the daily clutter and business of things around you and things to do. No matter how big your bags are, some of these small essentials will absolutely put a smile on your face when you need them the most and realize they're all neatly packed up in your bag.
A small pouch with medications for the most common needs on the road goes a long way in keeping your ride enjoyable. Even if you won't use any of them for yourself, there might be a rider in your group who will be grateful to receive a helping hand with some basic pain issues.
Daily prescriptions
Aspirin, Tylenol, Ibuprofen, eye drops, allergy medication
On our guided tours, all tour guides and van drivers have first aid kits for the group and are CPR certified. Some of our tour guides are retired firefighters and paramedics, so you will absolutely be cared for, no matter the situation.
Most of us have two main reasons to get on the road - to connect or to disconnect. Whichever reason is right for you for the trip ahead, here are some communications tools and gadgets to bring along to document the trip and make sure you've got ways to pay for anything you need during the ride or tour.
Smart phone
Laptop/USB drive (optional)
Camera with extra batteries, international charger (120 volts) and storage cards
iPod or MP3 player (optional)
Driver's License with motorcycle endorsement
Cash, credit cards
You can absolutely capture your trip on your smartphone. But having a small and light camera might be one of the best additions to document the ride to remember and relive it later.
FINAL NOTES
On guided tours, we ask that you limit the number of bags you bring to no more than one medium-sized suitcase and one carry-on bag. The chase van will accommodate your luggage so all you have to think about is the ride. Here are our tips for what to bring. Use your experience and best judgment to supplement this list. If you have any questions then please consult your Tour Leader for pre-riding conditions and expectations. Your tour leader can recommend specific products based on your needs.
If you're not sure about your specific needs and the trip you're about to book, whether a rental or a tour, please contact our reservations team to assist.
Receive Exclusive deals, rides and special events
Thank you for signing up!
EagleRider Privacy Policy
Yes! Please sign me up to receive the EagleRider newsletter and other emails and communications from EagleRider. By providing my personal information, I am consenting to its use and disclosure in accordance with EagleRider's Privacy Policy. I further consent to its use to serve targeted ads to me including via social media. I understand that I may withdraw my consent and unsubscribe from receiving future communications at any time. Consent is being sought by EagleRider.