Motor rides in the UK with EagleRider Silverstone
Posted On: Oct 22, 2019
If you're an avid rider and traveler, there is a very good chance you're currently looking for new and exciting destinations for your next motorcycle trip.
If you're an avid rider and traveler, there is a very good chance you're currently looking for new and exciting destinations for your next motorcycle trip.
EagleRider is known for hundreds of locations in the USA and 2-week tours across America. Today we want to show you another side of what we do - global destinations that combine amazing riding and rich heritage of the region.
So today, let's discover Ye Olde England, Bonnie Scotland, Wild Wales and the Heart Beat of Ireland on two wheels with EagleRider Silverstone.
With so much history throughout beautiful Britain and Ireland, it's easy to get immersed in the romance that lies around every corner. There is mile upon mile of countryside to explore and endless historic sites, towns and cities to visit.
First, let's start with a brief overview of what you can expect on your visit.
Welcome to the Great Britain and Ireland
On an island that measures just over 600 miles in length, 830 miles by quickest road, a two-week motorcycle trip is going to reveal many of its treasures.
Within this compact nation, with EagleRider Silverstone you can see such extremes as the world-famous Isle of Man TT, where talented riders fly passed as you sit on a hedge at over 180 mph. A sight you will never believe it until you see it for yourself.
You can then find yourself on an isolated Scottish beach, miles from anywhere, gasping at the awe-inspiring views this ancient land so willingly gives up.
A few days later sipping tea in an English Country House, reliving the history of Lords and Ladies years before doing just that – a real glimpse into our historic past.
We love our quaint country, with it's beautiful villages and stunning National Parks, and of course, the fantastic roads we motorcyclists can enjoy.
Great Rides
Scotland and the North Coast 500 is a breath-taking ride, the likes of which only Scotland can offer.
With a wide variety of roads from fast sweeping bends to single track hairpins, from stunning mountain scenery to wonderful coastal views, this is the perfect ride for an extended weekend. The loop is about 502 miles long, hence 500 in the name.
And of course, if there is the time, there are castles aplenty, Whisky tours to enjoy and the incredible city of Edinburgh to explore, just for starters!
There is also so much to enjoy on your way north and back south to EagleRider Silverstone too, making this a fantastic trip to relish and recall for the rest of time.
Wild Wales, with two of the most spectacular National Parks in the UK being in Wales, you simply need to point west from EagleRider Silverstone and head across the border. Both the Brecon Beacons and Snowdonia provide some of the UK's very best riding.
There is also plenty of coastline to explore too, with beautiful fishing towns on the West Coast and Cardigan Bay, and the stunning harbor town of Tenby on the south.
Whether it's a long weekend on the other side of Offa's Dyke or adding on some of our very English counties and the Cotswolds to extend your trip, it's a favorite with us two-wheeled Brits.
Those Irish Eyes Smile, mystical Ireland, whether Northern and Southern, is a magical place. With the wild Atlantic coast and the ancient west of Ireland, this landscape is perfect for those looking for a slower pace of life with so much to take in.
Exploring the island of Ireland will catapult you back in time when riding through its extraordinary countryside and seeing such ancient sights as the Giants Causeway. And of course, ride your way through the Game of Thrones territory.
And when it's time to bring you right back up to date, head into the beating heart of Ireland and experience nights to remember in Belfast and Dublin. These streets are alive and the Irish understand the art of living, maybe time for a small Guinness here too!
English National Parks, our beautiful country with its huge history and incredible landscapes is at its best within our National Parks. From the South West to the North East, English National Parks are beautiful to behold and stunning to ride though.
With bustling towns and villages nestled within them, offering the tourist all that is required, there's a destination for everyone.
From the Lake District to Dartmoor, from the Yorkshire Dales to the Broads, with 15 stunning National Parks to explore, what's stopping you?
Places to Visit
The Isle of Man TT and Classic TT, whether it's the classic race bikes or the bang up to date modern Superbikes, the Isle of Man is an experience every motorcycle enthusiast must witness. It's a true bucket-list opportunity and one that can only be seen to be believed.
Watching motorcycles being ridden through streets with houses either side at speeds of over 180 mph is something a YouTube clip will never do justice too.
Feeling the wind race across your face as bikes hurtle passed you, sat on a hedge with other two-wheeled fans, watching their faces change and feeling the hairs stand up on the back of your neck and right the way across your body, is why EagleRider Silverstone customers go back to this beautiful island year after year.
This is an island that loves the TT and Classic TT and the locals invite you to share their gardens, their walls so you, the visitor, can enjoy one of the very best motorcycle spectacles in the world.
Triumph Motorcycles Visitors Centre, within an hour's ride of our EagleRider Silverstone Race Circuit base, is the famous Triumph Factory and the unique stop off for motorcycle fans that is the Triumph Factory Visitor Experience.
So much more than just a motorcycle museum, the Triumph Factory Visitor Experience tells the whole story of why people ride by bringing together a spectacular collection of historic and modern achievements in motorcycle design, engineering, racing and popular culture.
As well as showcasing legendary iconic motorcycles from Triumph's long and impressive history, this free Triumph exhibition also highlights the amazing engineering technology that makes Triumph the world-class motorcycle manufacturer that it is today.
And with a café onsite, it's the perfect rest stop that may keep hold of you a little longer than you plan.
The Silverstone Experience, EagleRider Silverstone being based at the world-famous Silverstone Circuit where the elite racers from both MotoGP and Formula 1 entertain the fans, has its advantages. And one of those new for 2019 is the Silverstone Experience.
Celebrating the exciting past, present, and future of Silverstone and British motorsport, the Silverstone Experience is a new technology-driven and interactive visitor attraction opening in Summer 2019.
Fuelled by the most comprehensive and accessible collection of British motorsport memorabilia, delve deep into the history of both Silverstone and British motor racing through an immersive state of the art visitor journey. Discover the fascinating stories of human endeavor, sporting rivalries as well as the engineering and technology that changed the world.
The National Motorcycle Museum, only an hour north of EagleRider Silverstone, this museum house the largest collection of British motorcycles in the world with over 1,000 machines from 170 manufacturers. Booking a guided tour is well worth it to find out more about the British heritage of biking.
Extend Your Visit with Some British Culture, whether before, during or after your motorcycle tour of the UK, you really should consider taking in a little more! There is a wealth of history, culture and general splendid to behold.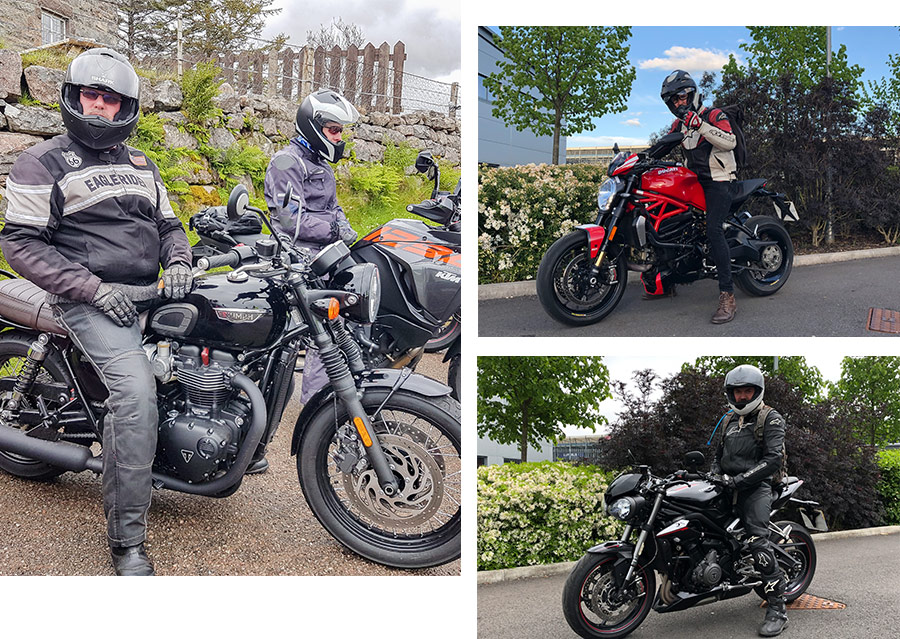 EagleRider Silverstone is located on the edge of the stunning Cotswolds hills and meadows, close to the University city of Oxford and the Spa Town of Cheltenham to the historic stately home, Chatsworth House within the Peak District National Park.
There are many cities, stately homes, and towns to visit, steeped in history, from Bath which represents the Regency period and all its splendor to University city of Cambridge, where you can visit the cloisters and quadrangles of these world-famous colleges.
Edinburgh in Scotland is a sight to behold, with such varying architecture, it's a marvel of this beautiful country.
And of course, when visiting the UK, London must be on the list. The English capital is non-stop and is only an hour from EagleRider Silverstone; with so much to offer, you are spoilt for choice and will leave needing to return.
History is around every corner, museums, shopping, theatre, art, and so much more.
The UK and EagleRider Silverstone has something for everyone: history, culture and some world-class riding to boot!
Receive Exclusive deals, rides and special events
Thank you for signing up!
EagleRider Privacy Policy
Yes! Please sign me up to receive the EagleRider newsletter and other emails and communications from EagleRider. By providing my personal information, I am consenting to its use and disclosure in accordance with EagleRider's Privacy Policy. I further consent to its use to serve targeted ads to me including via social media. I understand that I may withdraw my consent and unsubscribe from receiving future communications at any time. Consent is being sought by EagleRider.