12 Ways to Save Money While Traveling in America
Posted On: Aug 20, 2019
Traveling the United States on a motorcycle is one of the best experiences imaginable. Incredibly diverse landscapes, stunning National Parks and Natural Monuments, rich cultural heritage, and some of the most beautiful motorcycling roads on the planet make America a prime destination for motorcycle travelers.
Traveling the United States on a motorcycle is one of the best experiences imaginable. Incredibly diverse landscapes, stunning National Parks and Natural Monuments, rich cultural heritage, and some of the most beautiful motorcycling roads on the planet make America a prime destination for motorcycle travelers.
From the legendary Route 66 to the breathtaking Rocky Mountain twisties and scenic coastal roads meandering along the Pacific Ocean, America has so much to offer, you can spend years roaming this beautiful country and still only see a fraction of it.
Extended travel can get expensive quickly, especially if you don't have a lot of time. Motorcycle shipping or rental costs, accommodations, food, and fuel can all add up quickly if you're on a budget. Luckily, there are ways to save money while travelling in America. Here are our top ten tips to help you spend less while still having a once-in-a-lifetime experience.
1. Motorcycle Shipping vs. Renting
If you love traveling on your bike, shipping it to the United States is one of the options. Renting a bike from us is what thousands of riders choose to do every year. Here is a quick comparison of the two options.
Shipping is only worth it if you're planning to ride here longer than a month or two. Whether you choose sea or air freight, shipping can cost you anywhere between $1,500 to $5,000 one-way.
If you choose sea freight, it will be more economical, but be prepared to spend about a month or so without your motorcycle, as it takes much longer for the container ship to reach the destination. Also, you may have to dismantle it or at least remove the fuel and battery before shipping.
Then, once it arrives in the United States you must spend precious vacation time getting it out of US customs. Worse, if your bike arrives late, you may spend your entire vacation stuck waiting in a port city instead of being on the open road.
Renting a motorcycle is an easier and less expensive option. If your trip is not going to take more than four weeks, renting a motorcycle can be a great way to save money and forget the hassle of motorcycle packing, shipping, customs paperwork, and port fees.
When you rent a motorcycle with EagleRider, all you need to do is fly to your chosen destination, pick up your bike, and get going. In most cases, motorcycle insurance is offered as an add-on to the rental fee.
At EagleRider, we have a large fleet of the most popular motorcycle makes and models waiting for you in several different locations across America.
There's a bonus: when you rent a bike locally, you can be sure the motorcycle will be road-ready and in tip-top condition.
2. Plan Your Route
The United States is a large country and you will have to cover great distances if you don't plan your route carefully. For example, if you want to ride the famous Route 66 from Chicago to Los Angeles, that is some serious distance of over two thousand miles across the whole country, which means high fuel and accommodation costs.
Instead of trying to see it all and do it all in one trip, plan your route around five or seven of the spots you want to visit most. For example, riding the "Golden Triangle" between San Francisco, Los Angeles, and Las Vegas, can be a fantastic way to explore not just these three iconic cities, but also to see a great number of stunning National Parks and Natural Monuments along the way. Plus, you'll get the chance to ride some of the most scenic routes in the American West!
Pick a few spots on the top of your list, then connect them with the best routes you can find. That way you will combine some cool experiences with great riding.
EagleRider offers a variety of motorcycle self-guided and guided tour itineraries.
3. Get Creative with Accommodations
Accommodation costs will be your biggest expense while traveling in the US. To avoid paying high hotel fees, seek out motorcycle-friendly hotel chains such as Best Western and America's Best Value Inn.
EagleRider offers bike+hotel packages with incredible savings thanks to our existing contracts with hotels. We're able to pass on the savings to riders and plan custom routes that will fit your budget and travel wishes.
Hotels in America are usually more expensive than motels, so if you're on a budget, roadside overnight stays can be a good way to save a buck. In addition to being cheaper, motels are often family-owned, small establishments, and owners might be willing to negotiate on the price. If you happen to travel during the offseason, always ask for better prices.
Cabins and lodges are also typically cheaper than hotels. If you're traveling in Colorado or New Mexico, mountain cabins might be a great alternative to hotel rooms.
4. Travel Slowly
Any experienced traveler will tell you that the slower you travel, the more you see. Plus, slow travel creates the best memories. Instead of racing from one end of a state to the other or tearing through half of the country in one week, allow yourself to explore fewer places in greater depth.
Generally, the Western states have the most to offer when it comes to great riding and also offer the greatest number of America's best National Parks, so you can simply pick an area you're most curious about and explore it at your own pace.
Slow travel also means that you will spend less on fuel. When you book a hotel for more than one night, they are often more willing to offer a deal, especially in the "shoulder" seasons. Intimately getting to know an area also increases your chances of finding the best budget-friendly places to eat. Most National Parks have a multi-day pass which saves you a lot of cash in the long run.
An annual US Park Pass costs $80 and gives you and your motorcycle access to all National Parks and Federal Recreational Lands. An average National Park entrance fee is about $15 for motorcycles, so if you plan to visit more than five Parks, the annual Park Pass is worthwhile.
5. Local Knowledge
Getting tips from the locals is a terrific way to find the best hotels, campsites, and restaurants, plus nifty ways to save on park fees and creative ideas for attractions and entertainment.
A great ice breaker is stopping and asking for directions – people are usually willing to help a traveler. Don't be afraid to strike up a conversation at gas stations and rest stops, as other travelers and motorcycle riders love sharing their insider tips about the area.
If you prefer to plan everything in advance, hop on to online forums and social media groups. Plenty of local riders across America love sharing advice, and you might even get invited to stay at someone's spare room or at the very least, for a beer and a chat while in town.
Researching and planning the perfect motorcycle trip can take up a lot of time. To save you the trouble, we offer a special "Done For You" service where we build a custom-made trip for you including popular routes and hotel offers. This is a fantastic trip planning tool incorporating the best of our local knowledge and recommendations.
6. Food
If expensive gourmet dinners aren't your thing, the best alternative is to eat what the locals eat. For instance, if you are in the south, check out a local BBQ joint, and while in San Francisco, don't miss out on local budget-friendly seafood places and inexpensive Chinatown eateries.
To find the best places, Yelp is an excellent resource because it reviews restaurants that share their menus and prices online. Avoid eating out in touristy areas since the prices will always be higher.
When out exploring, you can take a lunch bag with you and simply eat your sandwiches and snacks on the go. Speaking of lunch, most restaurants will have lunch specials for a fraction of what you would pay for dinner, so splurge on your lunch and look for cheaper dinner options.
Fast food is hardly ideal, but if you're in a hurry and on a budget some chain restaurants across America can be a great way to eat cheaply. It's not all burgers and French fries: Denny's, as an example, has some healthy breakfast and lunch options.
Finally, don't forget to check out American diners. Eating in a diner is a quintessential American experience and in general, most diners aren't high-end restaurants and offer reasonable menus.
7. National Parks and Museums
American National Parks are legendary and for a good reason. They offer incredible experiences, giving you the opportunity to explore some of the most diverse, beautiful, and awe-inspiring natural wonders in the world.
In most cases you can ride your motorcycle straight across the parks. Often there are campgrounds available, providing a great opportunity to spend time outdoors and save on accommodation costs.
A National Park Pass, costing $80 a year, will give you access to all National Parks, National Monuments, and Federal Recreation Lands plus several other attractions like the Statue of Liberty, Alcatraz Island, and many more, including museums.
Museums are a fantastic way to experience the American culture without parting with too much of your hard-earned money. To get some ideas check out our guide to America's best motorcycle museums.
8. Fuel
Fuel is one of the routing expenses when traveling America on your motorcycle. You're golden if you visit Alabama, Texas, North Carolina, South Carolina, Virginia, and Louisiana, as they have the cheapest fuel prices in the country.
California, on the other hand, will charge you much more per gallon (the state to state variation is mostly due to add-on taxes on a state level).
There are some nifty ways to find cheap gas. One of the easiest solutions is to use Google Maps. Type "gas" in the search bar and you will see all the gas stations in your area listing their prices.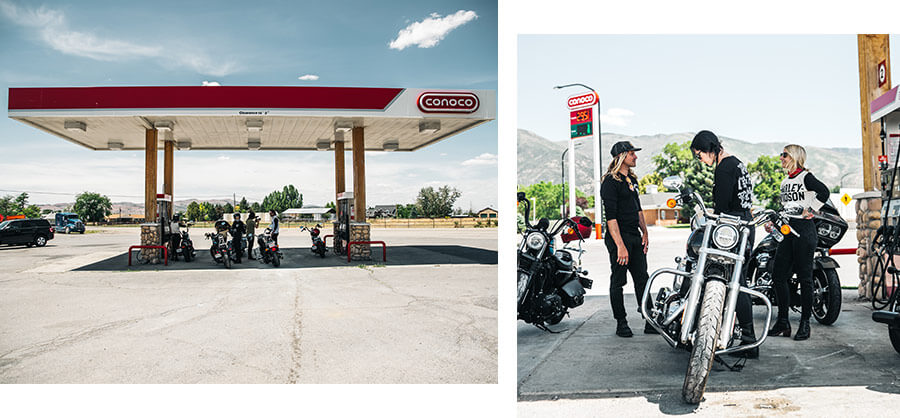 Another great way to save on fuel is to use apps such as Gas Buddy, which will direct you to the cheapest gas stations around. Don't count on these to be 100% accurate, however, because the prices are user-reported. Nonetheless, GasBuddy.com is still a fantastic resource for motorcycle travelers.
Finally, make sure you know your route. Getting lost is part of the adventure but having to double-back because you missed a turn means you'll burn more fuel.
When you're planning your route, opt for the most scenic roads but try and see if you can do loops or travel continuously without having to turn back to re-ride the same section twice.
We talk more about motorcycle touring tips in our online guide.
9. Plan Your Impulse Shopping
You're on vacation so it's only natural you'll want an ice cream here, a Route 66 T-Shirt there, but before you know it, it all adds up.
To avoid maxing out your credit card, plan your splurges in advance to avoid over-spending. Make sure you only buy truly meaningful, quality souvenirs instead of stuffing your bags with cheap knick-knacks.
Before you go make a bucket list of things you absolutely want to do, buy, or taste, and avoid temptation for tourist traps. Experiences always last longer than things, so plan to invest more in your memories and less in stuff.
If you know you won't be able to help yourself, give yourself a daily splurge budget then stick to it. That way you'll be able to indulge in some guilty shopping pleasures, but still control your spending.
10. Carry Snacks and Water
Stocking up on snacks and bottled water in grocery stores or big supermarkets will save you a lot of money down the road. That same $6 bag of trail mix can cost twice as much when it's sold by a touristy shop located right on the edge of the Grand Canyon, so prepare in advance.
Bags of nuts, protein bars, trail mix, and even supermarket sandwiches can all work when you need a quick lunch on the go.
Carrying snacks and water will also allow you to be flexible: if you are in an area with expensive restaurants, you can have a quick snack and continue exploring until you find something that's more budget friendly. We make bad decisions when we're hungry, so make sure you're prepared for those long distances.
11. Do Your Own Maintenance
If you rent a motorcycle with us, skip this section...you won't ever need to do any maintenance work because your bike will be in tip-top condition.
If you are riding your own motorcycle, however, learning how to check your liquids, chain, and how to plug a flat tire can save you a lot of money in service fees. Before you set out, make sure your brake pads and tires aren't worn out, change your oil, check your spark plugs, and make sure all your motorcycle lights are in working order. Carry a small essential tool kit, a spare tire tube or plug kit, and a tire repair kit. We cover more of packing tips here.
If you aren't mechanically-minded, make sure you have roadside assistance. Paying for a tow can get very expensive, so get an insurance policy to cover all unexpected situations.
A basic once-over every day can save you a lot of trouble and potentially save your vacation. Before you head out in the morning, always make sure your engine runs smoothly and check your tire pressure. Paying attention to detail pays off in the long run.
12. Track Your Spending
More often than not, we spend too much money, not because we can't control ourselves, but because we don't track our spending. Analyze what you are buying daily to make sure you stay within your budget.
Tracking your spending will allow you to cut back on things you do not need and be a little more mindful about your spending habits. There are plenty of free apps out there that can help you track your spending and gain the control back.
A well-prepared motorcycle trip across the United States can end up being the best experience of your life.
While it's true that you cannot plan for every eventuality, route planning, booking accommodations and flights in advance, and pre-planned decisions about your daily budget can dramatically reduce the cost of your trip. It isn't just about being smart with your cash.
Camping can not only save you money but also create magical memories of sleeping among the giants in the Valley of the Gods (ask pictured above from our Utah "Salty Summer" Ride with Harley-Davidson) or watching the shooting stars from the Mojave Desert.
Visiting National Parks, getting friendly with the locals, and traveling slow will allow you to get to know America better on a deeper level, making it an unforgettable experience. We hope you find time to experience the best of what America has to offer.
And there is no better way to do this than on two wheels.
Receive Exclusive deals, rides and special events
Thank you for signing up!
EagleRider Privacy Policy
Yes! Please sign me up to receive the EagleRider newsletter and other emails and communications from EagleRider. By providing my personal information, I am consenting to its use and disclosure in accordance with EagleRider's Privacy Policy. I further consent to its use to serve targeted ads to me including via social media. I understand that I may withdraw my consent and unsubscribe from receiving future communications at any time. Consent is being sought by EagleRider.