Adventure Moto Trip in California
Posted On: Apr 17, 2020
You don't need to explain to a motorcycle rider what being on an open scenic byway feels like. From there, many riders also roam into even more isolated landscapes – the unpaved roads and trails.
You don't need to explain to a motorcycle rider what being on an open scenic byway feels like. From there, many riders also roam into even more isolated landscapes – the unpaved roads and trails.
Dual sport riders are a special breed. They need little, pack only essentials, can ride for days and days, and feel at home in complete wilderness with no other humans for miles around.
As you may know, EagleRider rents a variety of motorcycle models from different brands. We are normally considered to be Harley only rental company.
But if you look at other OEMs we carry and the expansiveness of our rental network, there is a high change that your eyes will lit up now in anticipation of all the different kinds of adventures you can have on our bikes.
THE ROUTE
The idea for this ride was to hit a few of the most beautiful spots between California's Sierras mountain range and the desert. We knew our overnight stops and loosely planned for the riding in between.
The focus for the ride was to be on 3 key spots: Trona Pinnacles, Mammoth Lakes and natural hot springs around, and Alabama Hills. All these destinations are along CA route 395, the iconic highway that is separated from the Pacific Ocean by the mountain peaks of Sierra Nevada Mountains.
The trip was to be 4 days long. Everyone took a few days off work, booked the flights to Los Angeles, and we were just weeks away from hitting the road on this adventure.
Drew Martin, whom we consider to be a true icon when it comes to knowing hidden desert spots and routes, picked his 5 riders for the trip: Mike, Adam, Nick, John, and Mike. Drew Martin has photographed desert for years and there are no other images you need to see to be convinced that the desert should be your next trip's destination.
DAY 1. Los Angeles – Trona Pinnacles
It's crazy to think that the views we're about to share with you here are only 3 hours away from Los Angeles, one of the most visited tourist cities around the world with one of the busiest international airports in the USA.
You land at LAX, pick up your luggage and gear, and head to EagleRider Los Angeles. The bikes are lined up outside of our location with name tags for each rider leaving on an epic 4-day adventure with you.
The rental paperwork takes less than 10 minutes and now you're outside repacking your bags, leaving whatever can stay in LA in our secure storage, and gearing up your bike with weatherproof bags.
We picked a mix of different bikes for this trip:
Los Angeles traffic is always a pleasure! Who doesn't enjoy being stuck on a highway? On a serious note, it's much easier to move around on motorcycles. So, in just a few hours we were miles away from the city and turning onto a road that was in 6 miles going to lead us to the destination for the night – Trona Pinnacles.
The views there were out of this world. The weather was warm, not too hot, but just where we wanted it to be for an early fall camping night. We did this trip in September.
The desert sunsets are magical. The sky is soft pink color slowly turning into purple, and then disappearing into the darkness of the night with starry sky. With no city lights for miles, you have no problem seeing the Milky Way all throughout the sky above.
We cooked dinner, told stories around the bonfire, and drifted off into sleep. The nights are very quiet here, some days are windy, but you can usually hear the swooshes of the bird wings as it races through the sky to some unknown destination.
DAY 2. Trona Pinnacles - Mammoth
Waking up in Trona feels like you are in a dream world. Everything around is in sandy beige tones, the shapes of Pinnacles still feel foreign, it's still incredibly quiet, and gets warm early in the day.
From here you don't see cities, highways, or any indication of human life anywhere around. You're now in your own little world for however long you want to stay here. There are about a dozen designated camping spots and a bathroom by the entrance gate. That's all you get. The rest is pure wilderness.
We packed up after breakfast and started heading north on 395 to make our way to Mammoth Lakes and enjoy some hot springs. The jerky shop along the route is a regular place to stop.
There are dozens of hot springs, some are more touristy, and some are only known to locals or those who try to find these hidden gems. Hot springs are just what they sound like – hot running natural stream with little pods for you to sit and relax. For the September weather this felt like an amazing contrast of temperatures – a bit chilly air and then extremely warm water.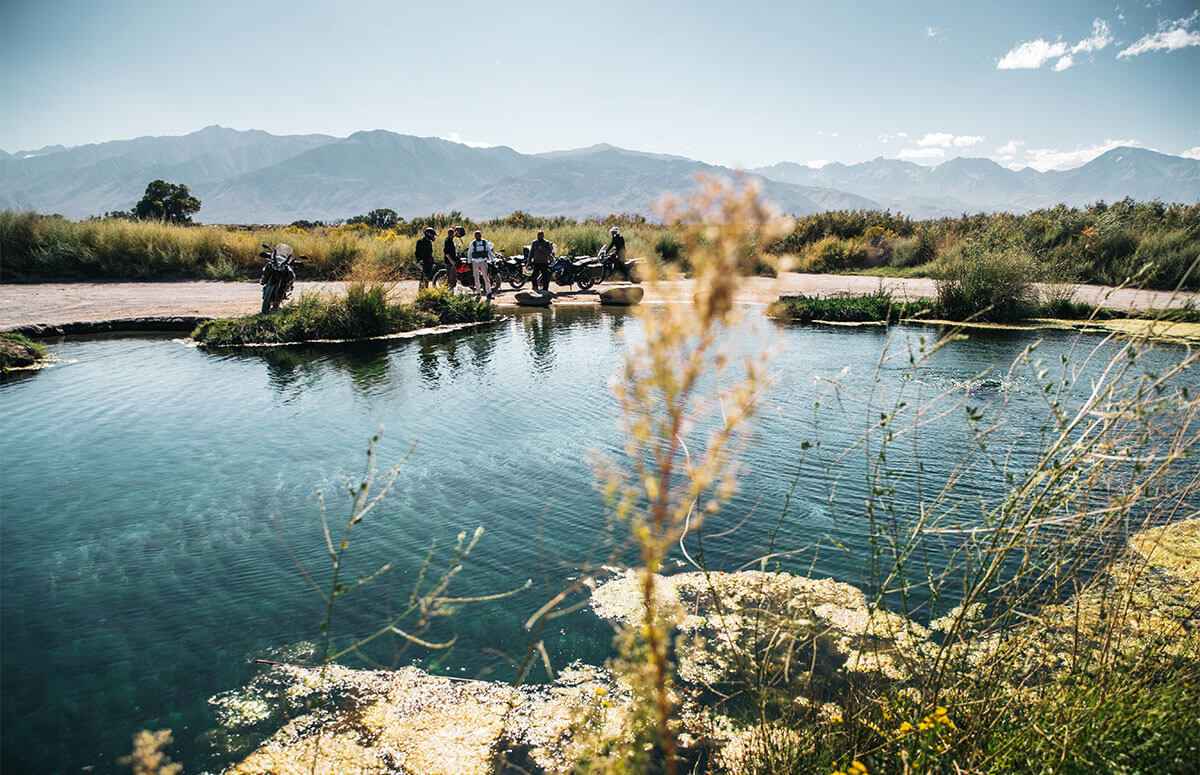 For the night, we got a house this time. And that was the right call. It got quite cold that night and we were hundreds of miles north by now from where we started the day.
DAY 3. Mammoth Lakes – Alabama Hills
Have you ever had a morning on the road when you get to your bike and it's covered in a layer of frost? And then you finally get it to warm up and start riding, but then the blue sky with a few clouds starts sprinkling some rain drops on you?
Well, that was our morning on day 3 of this California desert adventure ride. None of it was unpleasant, just the reality of motorcycle ride's life. You learn to enjoy all kinds of moments, because together they make up feelings and memories of the trip that stay with you for years.
Alabama Hills was our final overnight stop. For someone new to the area, it looks like a section from Joshua Tree National Park got placed by the mountain range. It's truly one of the best views in California.
Numerous movies were shot here. The local map can even point you to scenes from specific movies and marked areas where those we shot. And you believe it. It's the view out of blockbuster movies – conveying the sense of surreal and grandiose.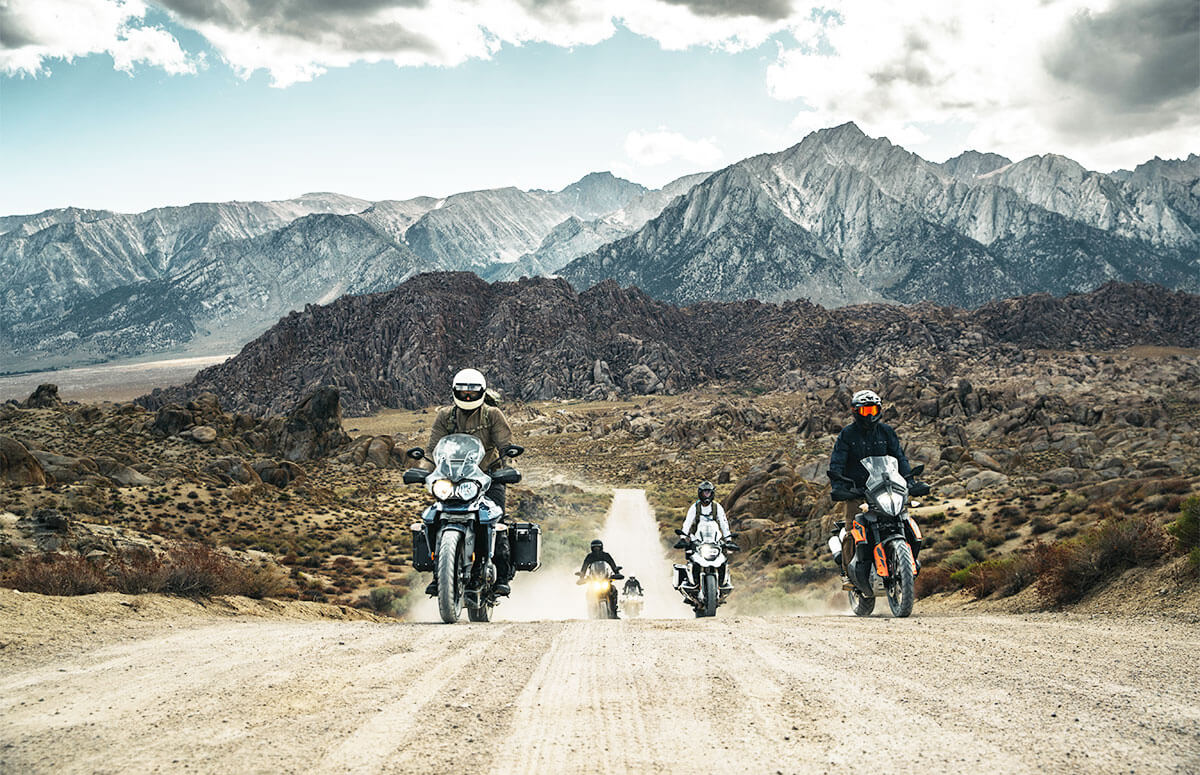 Alabama Hills area has lots of camping spots. In the summer there are restrictions on campfires because of heat and gusty winds that can easily set off some major fires.
If you get a chance to camp here in November-April (please check the info on campfire restrictions before planning the trip in a specific month), it's just so much better with a little campfire burning in front of snowcapped mountains.
DAY 4. Alabama Hills – Los Angeles
This was it, time to come back to Los Angeles. We had about 4 hours of riding to come back to EagleRider Los Angeles. Around 3 PM we returned the bikes and headed to the airport or drove home, a few of us were local to LA.
On trips like this new friendships form quickly. This was a true adventure. When family life leaves you no breaks for yourself, a ride into the desert with a bit of camping and fantastic views can do wonders for your happiness levels, inner refueling, and self-care.
WHERE TO GO FROM HERE
If you enjoyed following this trip's diary, we encourage you to look at the list of 30 rides we put together that will be great for an extended weekend. A few other places to look at:
With hundreds of EagleRider locations nationwide, not all of them carry adventure bikes. Here is your quick lookup on the main locations where adventure bikes are available:
Receive Exclusive deals, rides and special events
Thank you for signing up!
EagleRider Privacy Policy
Yes! Please sign me up to receive the EagleRider newsletter and other emails and communications from EagleRider. By providing my personal information, I am consenting to its use and disclosure in accordance with EagleRider's Privacy Policy. I further consent to its use to serve targeted ads to me including via social media. I understand that I may withdraw my consent and unsubscribe from receiving future communications at any time. Consent is being sought by EagleRider.
Loading...
Forgot Password?
No worries, enter your email address and we'll help you choose a new password.