Mettiti in sella e vola con la borsa Eagle Pack
Posted On: Oct 19, 2018
Mettersi in sella e vivere bellissime avventure non è mai stato più facile e divertente. Con gli aerei così veloci ed economici, è facile ora volare verso una nuova destinazione, noleggiare una moto e partire in esplorazione. Molte moto da turismo sono dotate di un vano bagagli già montato, ma che succede se hai bisogno di uno spazio extra o la tua moto non presenta vani o borse abbastanza grandi? EagleRider ha recentemente lanciato Eagle Pack, disponibile a partire dal 1° gennaio 2019, un nuovo strumento di carico che puoi portare a casa dopo il tuo viaggio.
È una battaglia frequente per i motociclisti trasferire tutto ciò di cui si ha bisogno dalla valigia al vano della moto. A nessuno piace provare a spremere le cose in uno spazio molto piccolo e farlo anche davanti ad altri motociclisti. In EagleRider, offriamo un deposito bagagli sicuro presso tutte le nostre sedi, così puoi sempre lasciare le tue borse più grandi da noi per tutta la durata del viaggio. Possiamo spedire i bagagli alla destinazione finale se stai finendo il giro in un'altra città oppure in un altro stato. Se le tue borse più grandi possono stare con noi, qual è il modo migliore per caricare sulla moto quello che ti serve per il viaggio?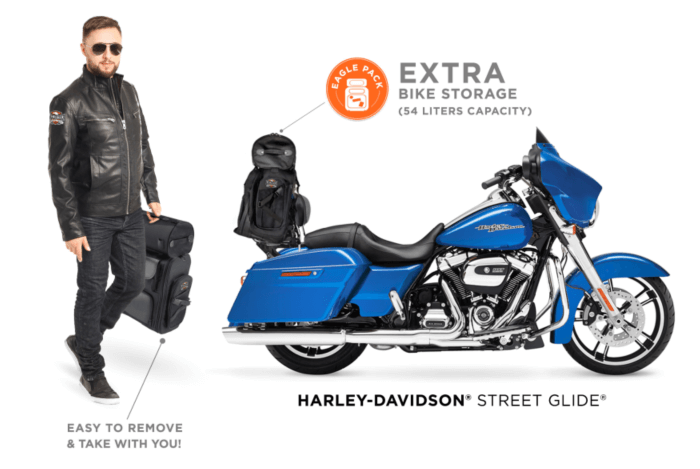 Eagle Pack è il frutto di innumerevoli conversazioni e suggerimenti dei nostri piloti che desideravano una soluzione di carico leggera, resistente, con scomparti comodi e facilmente staccabili, ma sicura sulla moto. Con una capacità di 65 litri, questa borsa è disponibile come acquisto una tantum che puoi aggiungere durante la fase di prenotazione del noleggio.
COME AGGIUNGERE EAGLE PACK ALLA TUA PRENOTAZIONE
Quando inizi la prenotazione del noleggio, i primi passi saranno quelli di scegliere la moto, indicare la data di ritiro, quella di consegna e la località del noleggio. Una volta arrivato al secondo passaggio della prenotazione "2. Seleziona gli Extra", puoi scegliere di aggiungere Eagle Pack come una tantum. Rimarrà tua dopo il viaggio.
Scorri verso il basso fino alla sezione chiamata "Accessori" sotto le opzioni assicurative. Qui puoi selezionare EaglePack e l'importo della tua prenotazione verrà aggiornato per includere questa pratica borsa da viaggio per moto.
Una volta completata la prenotazione, il team della sede presso la quale ritirerai la moto metterà da parte un nuovo Eagle Pack che ti aspetterà all'arrivo.
COME CARICARE EAGLE PACK
Se sei un viaggiatore minimalista con carte di credito al seguito, hai opzioni illimitate. Prepara semplicemente l'attrezzatura da moto strettamente necessaria e parti. Puoi acquistare prodotti per il bagno lungo il percorso o utilizzare quelli forniti dagli hotel presso i quali alloggerai. Il servizio di lavanderia può essere eseguito negli hotel per mantenere il bagaglio leggero e il cibo può essere acquistato lungo la strada. Meglio avere meno roba e una moto facilmente manovrabile rispetto all'opzione contraria. Inoltre, una moto ben bilanciata è molto più divertente da guidare.
Il sistema di preparazione del bagaglio per un'avventura del tipo "mettiti in sella e parti" è lo stesso di qualsiasi altra avventura in moto: sistemare gli oggetti più pesanti sul fondo, quelli più leggeri sopra di questi, e la tua fotocamera e gli oggetti quotidiani in alto. Cerca di mantenere il peso in basso vicino agli assi della moto. Il peso tenuto in alto, magari fissato allo schienale portabagagli oppure appoggiato sul sellino, aumenta la pesantezza e diminuisce la manovrabilità.
See the GUIDA COMPLETA AL BAGAGLIO E LA LISTA DI CONTROLLO DEL BAGAGLIO QUI.
L'APPROCCIO MINIMALISTA
Il ruolo di Eagle Pack è quello di darti più spazio e di aumentare la capacità di portare più capi rimanendo leggero in moto. Certo, vuoi sentirti completamente a tuo agio durante il viaggio e avere tutto rapidamente a portata di mano in modo efficiente ed organizzato. Portare molte cose renderà migliore la tua guida? Non sempre. Se stai guidando da solo, non devi considerare il comfort del tuo passeggero. Una carta di credito e un telefono cellulare potrebbero essere tutto ciò di cui hai bisogno ed è una sensazione incredibilmente piacevole quella di sentirsi libero da ogni confusione quotidiana - qualcosa per cui le avventure in moto sono davvero l'ideale! Una sola borsa da portare in albergo per i pernottamenti è il modo migliore per iniziare e terminare le tue giornate in viaggio, in modo molto rapido e divertente.
Per le vacanze in famiglia, spesso il tuo passeggero o compagno di viaggio è quello che devi persuadere a fare il viaggio che tu hai in mente. Eagle Pack può facilmente essere uno dei tuoi "strumenti di persuasione" per convincere il compagno ad impegnarsi a fare il viaggio.
Eagle Pack può essere aggiunto a tutte le prenotazioni con data di ritiro successiva al 1° gennaio 2019 VAI AL NOSTRO SISTEMA DI PRENOTAZIONI se desideri aggiungere Eagle Pack alle prenotazioni esistenti o se hai eventuali domande a riguardo
Receive Exclusive deals, rides and special events
Thank you for signing up!
EagleRider Privacy Policy
Yes! Please sign me up to receive the EagleRider newsletter and other emails and communications from EagleRider. By providing my personal information, I am consenting to its use and disclosure in accordance with EagleRider's Privacy Policy. I further consent to its use to serve targeted ads to me including via social media. I understand that I may withdraw my consent and unsubscribe from receiving future communications at any time. Consent is being sought by EagleRider.