Chris McIntyre - Chief Executive Officer, Oprichter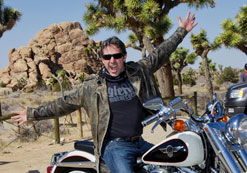 EagleRider president, Chris, houdt toezicht op alle aspecten van het bedrijf. Dit omvat alle marketing functies, public relations, technologie en productontwikkeling, en promotie van het merk EagleRider.
Chris studeerde Economie aan de universiteit van Wisconsin - Madison waar hij ook US College Hockey speelde. Kort nadat hij zijn school had afgerond, kreeg Chris een baan bij de NCR Corporation waar hij Jeff Brown ontmoette. Het duurde niet lang voordat de twee een leegte ontdekten in de motorverhuurwereld en EagleRider oprichtten.
Jeff Brown - Chief Administrative Officer, Oprichter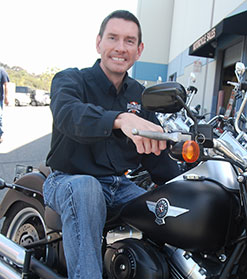 Jeff's 1987 Harley-Davidson Lowrider Sport was een van EagleRider's eerste vier motoren die werden verhuurd vanuit de garage in San Pedro. Momenteel draagt Jeff de zorg voor de strategische planning op topniveau, ondersteuning en uitvoering voor EagleRider. Hij houdt toezicht op de franchise verkoop, het ondersteuningsteam en houdt tevens toezicht op alle contracten en verhuur waarmee het bedrijf zich bezighoudt met verschillende leveranciers en eigenaren.
Jeff behaalde een bachelor in Business Administration aan de Universiteit van Michigan waarna hij een master afronde aan de Universiteit van Pepperdine. Voordat EagleRider werd opgericht, werkte Jeff zeven jaar bij NCR Corporation op de marketing en sales afdeling. Voordat Jeff EagleRider's Chief Administrative Officer werd, werkte Jeff als Chief Operating Officer en Chief Financial Officer waar hij toezicht hield op de bedrijfsvoering en HR-gerelateerde onderwerpen. Hij was ook de grondlegger van de financiën en boekhouding afdelingen.
Favoriete motor:de Harley-Davidson Lowrider Sport uit 1987.
Richard Wolff - Chief Operating and Financial Officer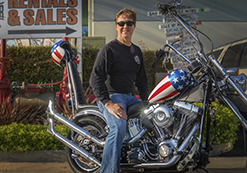 EagleRider's Chief Operating and Financial Officer, Richard, oversees all operational and financial aspects of the company. This includes all stores functions, operations, fleet, accounting, finance, treasury, Human Resources and EagleRider Finance.
Richard has extensive experience running operations and finance for various industries including rental car, real estate, manufacturing, industrial engineering, hospitality, building materials, construction and various others. Richard received his bachelors degree in Economics/Business from the University of California – Los Angeles. He is also a CPA in the state of California.
Hal Oreif – Chief Technology & Revenue Officer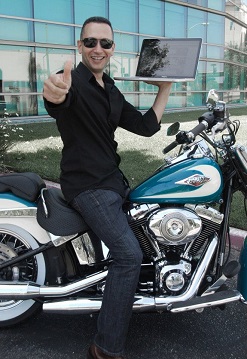 Hal Oreif joined EagleRider as Chief Technology & Revenue Officer in 2012 overseeing technology strategy and operations, web & mobile development, corporate IT systems and applications, search technologies, marketing and revenue after selling his startup to a public company. Before his last startup, Hal was CTO/CIO in IAC/InterActiveCorp for 3 years.
Hal also served for 9 years as CTO in Warner Bros working on brands such as Harry Potter and The Matrix. Before WB, Hal served for 7 years in the financial sector as Director of software engineering. His first startup was an ERP company that was taken public. Hal has a Master's Degree & BS in Computer Science. He also went to UCLA Anderson School of Management.