Chris McIntyre - administrerende direktør, grunnlegger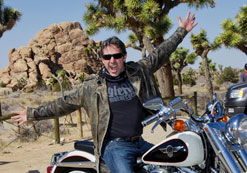 EagleRiders administrerende direktør, Chris, fører tilsyn med alle aspekter av firmaet. Dette omfatter all markedsføring, kundekontakt, teknologi og produktutvikling, samt promotering av EagleRider-merket.
Chris studerte økonomi ved University of Wisconsin i Madison, hvor han også spilte for ishockeylaget. Like etter studietiden begynte Chris å jobbe for NCR Corpororation, og her møtte han Jeff Brown. Det gikk ikke lang tid før de to merket det manglende tilbudet innen utleie av motorsykler, og grunnla EagleRider.
Jeff Brown – Daglid leder, grunnlegger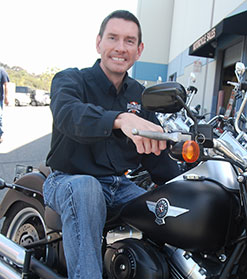 Jeffs 1987-modell av Harley-Davidson Lowrider Sport var én av de første fire motorsyklene som ble utleid fra garasjen i San Pedro. Jeff har for tiden ansvaret for strategisk planlegging, støtte og gjennomføring på toppnivå for EagleRider. Han er dessuten leder for franchise-salg og støtteteam, og fører tilsyn med alle kontrakter og leieavtaler som firmaet inngår med ulike forhandlere og grunneiere.
Jeff har Bachelor-grad i Business Administration fra University of Michigan og tok deretter Master-grad ved Pepperdine University. Før han ble med på å grunnlegge EagleRider, jobbet Jeff med salg og markedsføring for NCR Corporation. Før Jeff tok stillingen som daglig leder, arbeidet han som driftsdirektør og økonomisjef, med hovedansvaret for all drift og alle personalsaker i firmaet. Han etablerte dessuten økonomi- og regnskapsavdelingen.
Favorittsykkel:1987 Harley-Davidson Lowrider Sport.
Richard Wolff - Chief Operating and Financial Officer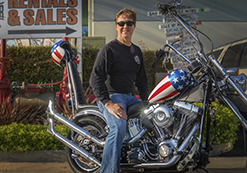 EagleRider's Chief Operating and Financial Officer, Richard, oversees all operational and financial aspects of the company. This includes all stores functions, operations, fleet, accounting, finance, treasury, Human Resources and EagleRider Finance.
Richard has extensive experience running operations and finance for various industries including rental car, real estate, manufacturing, industrial engineering, hospitality, building materials, construction and various others. Richard received his bachelors degree in Economics/Business from the University of California – Los Angeles. He is also a CPA in the state of California.
Hal Oreif – Chief Technology & Revenue Officer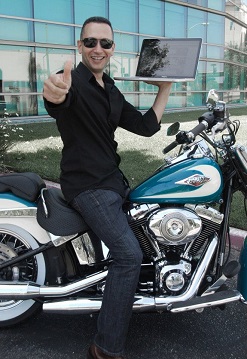 Hal Oreif joined EagleRider as Chief Technology & Revenue Officer in 2012 overseeing technology strategy and operations, web & mobile development, corporate IT systems and applications, search technologies, marketing and revenue after selling his startup to a public company. Before his last startup, Hal was CTO/CIO in IAC/InterActiveCorp for 3 years.
Hal also served for 9 years as CTO in Warner Bros working on brands such as Harry Potter and The Matrix. Before WB, Hal served for 7 years in the financial sector as Director of software engineering. His first startup was an ERP company that was taken public. Hal has a Master's Degree & BS in Computer Science. He also went to UCLA Anderson School of Management.