California Coasting | Harley-Davidson x EagleRider
Posted On: Apr 16, 2020
It's as if the Pacific Coast Highway from San Francisco to Los Angeles was built for motorcycles – You get to lean hard into rolling curves, soak up endless blue skies, and ride by redwoods.
San Francisco is easily one of the most famous travel destinations in the world. The city is full of sights both striking and quirky, along with entertaining activities and mouth-watering food.
To help you make sure you get the best out of your experience, we've put together a list of must-see places in the city itself as well as the best rides in the area direct from our EagleRider custom travel planners.
It's as if the Pacific Coast Highway from San Francisco to Los Angeles was built for motorcycles – You get to lean hard into rolling curves, soak up endless blue skies, and ride by redwoods.
We assembled a crew in October 2019 and went riding south from the Golden Gates of SAN FRANCISCO to LOS ANGELES on one of the most scenic motorcycle routes in the U.S.
Moto photographer JENNY LINQUIST and her husband MIKE LINQUIST called up custom bike builder DAVE MUCCI and KARA to come along. Additional to these four, Pacific Northwest moto-fanatics, NINJA NATALIE tagged along, as well as our San Fran personal tour guide, GREG WEISSEL.
Photographer Drew Martin and videographer Jordan Lovelis (with Max Junk) came along to capture the action and bring them to life for everyone to enjoy and plan their own PCH ultimate rides.
THE ROUTE
DAY 1 – ARRIVAL IN SAN FRANCISCO
The crew rendezvoused at MISSION MOTO HARLEY-DAVIDSON for a quick rental pick-up. Before leaving the Mission District, an east central San Francisco neighborhood, they grabbed some (human) fuel at Baby Blues BBQ. The Mission District is home to many multicultural eats, street art, and old architecture.
Motorcycle rentals chosen for this coastal journey included the Harley-Davidson IRON 1200, LOW RIDER, HERITAGE CLASSIC, and ROAD GLIDE. The trip was around 550 miles and mostly off the highway at a leisurely pace, so each bike was more than capable for the journey. The touring bikes add more creature comforts like the ability to listen to your favorite John Prine songs and pull up a map when you realize you've been riding in a giant circle.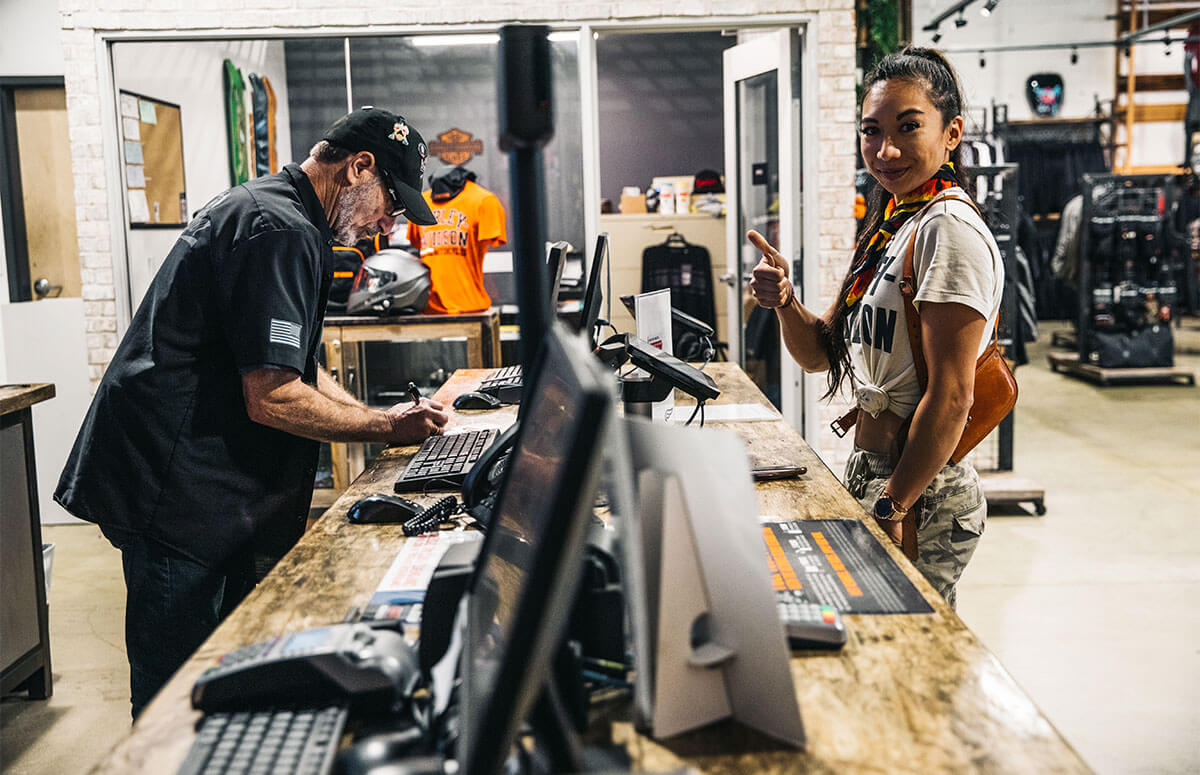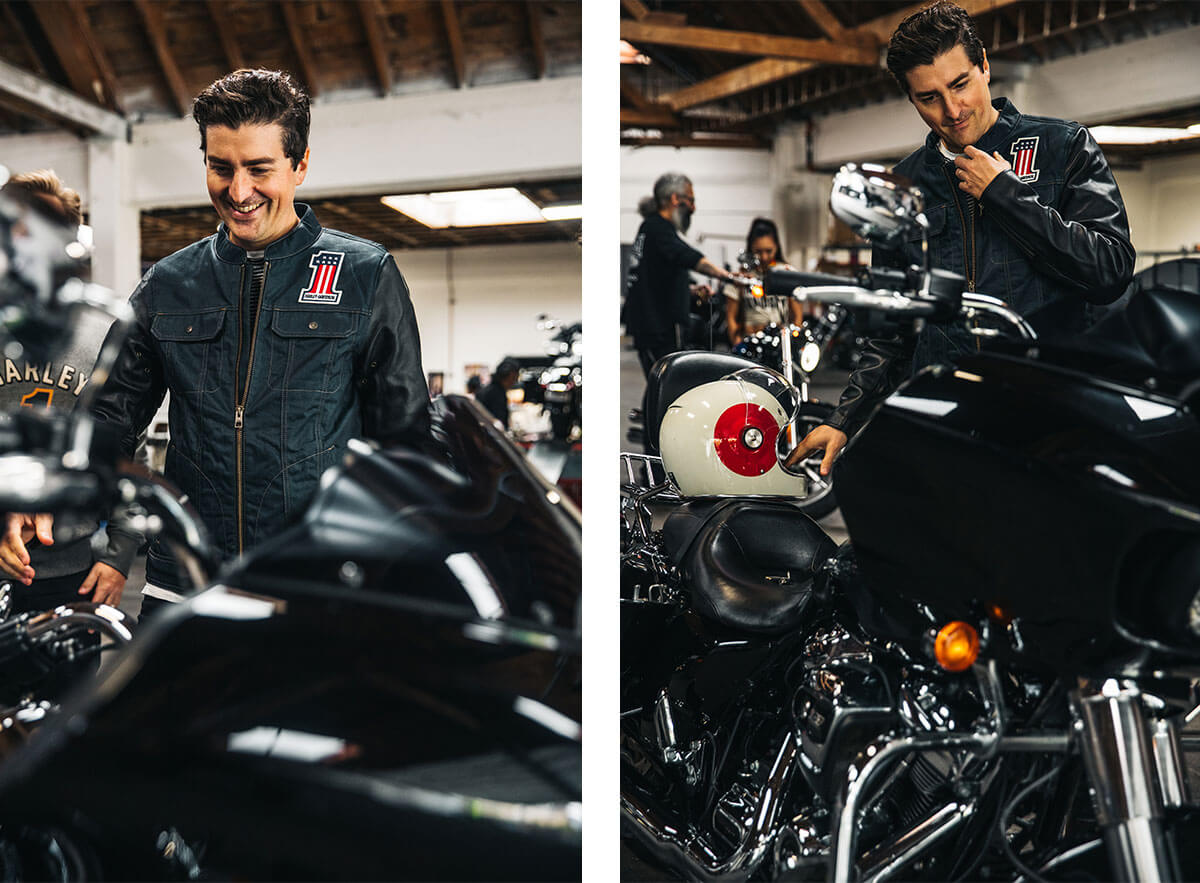 The riders planned to stay in San Francisco for the night, so first thing to check off the trip list was to ride over the Golden Gate bridge, especially before rush hour took over the city. NOTE: EagleRider Rentals provides Golden Gate Bridge Toll Package, please make sure you choose this option when making your rental reservation.
San Francisco's Golden Gate Bridge is the most iconic landmark of the city. Built in 1937, the 1.7-mile long, 90-feet wide suspension bridge connects San Francisco Bay with the Marin County mainland.
On the northside of the bridge, there are a ton of easy-to-ride-to vantage points, including Horseshoe Bay as well as up on the ridge, to the west of 101. Hit both viewing points on a loop and you'll also find the Baker-Barry Tunnel.
DAY 2 – SAN FRANCISCO TO BIG SUR
Everyone woke up early on the second day, excited to start the day.. off the bikes… After a night of intensely viewing The Rock (not the wrestler, the movie about Alcatraz Island starring Nicholas Cage and Sean Connery), it was decided to roll down to San Francisco's piers and catch a ride over to Alcatraz Island. Everyone geared up and rode the short jaunt down to Pier 31 to set sail for Alcatraz.
This small island was once a fort, a military prison, and a maximum security federal penitentiary (Watch The Rock for a highly fictionalized, highly explosive depiction). In 1969, the Indians of All Tribes occupied Alcatraz for 19 months in the name of freedom and Native American civil rights. Alcatraz's complex history and natural beauty is a worthwhile stop while touring San Francisco.
After everyone had their fill of prison cell photos, it was time to hit the road. The crew headed south, with high excitement and high hunger (not a metaphor). Skyline Boulevard is a foggy ('Karl' the fog followed us from San Francisco) alternative route through the redwoods. Many moto-minded friends opt to take this route, as the EagleRider crew was surround by Harleys, high-end exotics, and hot rods.
It was important to get a good bite to eat before hours on the road, so the riders stopped at ALICE'S RESTAURANT. Alice's is one of the most famous motorcycle destinations in Northern California. All roads that lead to Alice's are highly entertaining and inside the restaurant, the food and decorations are gas and oil themed.
It was time to head south and rumble through the redwoods. The route chosen was 84 to Pescadero Creek Road, which eventually spits out on the coast, on the Pacific Coast Highway.
The famous Pacific Coast Highway started construction in the 1930s and remains a marvel of human effort, stretching over 600 miles of California's rugged and beautiful coastline. PCH is one of the most scenic roads in the world, with high cliff sides, towering trees, rocky beaches, numerous vistas, and endless sky.
Before reaching the most scenic stretch of PCH, the riders took a pit stop in Santa Cruz, caffeinating up on some VERVE Coffee at their Roastery.
Once passing Monterey and Carmel Highlands, PCH hugs the Pacific coastline, where you can stare your right ever so often for an endless ocean view.
Bixby Bridge is one of Big Sur's most recognized landmarks. This concrete bridge, one of the highest bridges of its kind in the world, soars 260 feet above the bottom of a steep canyon carved by Bixby Creek. Bixby Bridge is also a highly photographed location in Big Sur; for the most enjoyment, try to visit during off hours like weekdays, early in the morning, or towards the evening.
The end point for the night was FERNWOOD Campground, with campsites located right next to the Big Sur River bordering Pfeiffer Big Sur State Park. The riders arrived, put up tents, ate dinner at the Campground's bar and grill, and made a fire. A review of the day's views and best riding moments was chatted about and the riders drifted off to sleep.
DAY 3 – BIG SUR to MORRO BAY
With only 100 miles to cover on this day, the agenda was set to a slow roll and to stop at as many scenic outlooks as possible. The plan was to back track a bit and do Big Sur from start to finish since the Pacific Coast Highway is worth doing twice, if not more!
Some noteworthy stops include: NEPENTHE (cliff-topping restaurant), JULIA PFEIFFER BURNS STATE PARK (who doesn't love waterfalls?), and BIG SUR ROADHOUSE (great breakfast options).
PCH's winding road and ocean views felt infinite, like a party on two wheels. Big Sur and the Pacific Coast Highway are 100% good times. Moving further south, the road becomes more flat and straight; don't forget to take a look at HEARST CASTLE, sitting on the hilltops adjacent to ELEPHANT SEAL VISTA POINT. Morro rock came into sight as the sun was setting. The riders chose to pull off and enjoy the sunset for a quick 20 minute break.
ISLAY CREEK CAMPGROUND in the Montana De Oro State Park was the sleeping spot for the night. Montana De Oro Park features rugged cliffs, secluded sandy beaches, coastal plains, streams, canyons, and hills, including the 1,347-foot Valencia Peak. The ride into the campsite is eerily cool, with dark patches of woods, some patches that give the feeling of being tunneled in. Make sure to reserve camping spots in both Big Sur and around Morro Bay far in advance, as (even in October) campsites fill up fast.
DAY 4 – MORRO BAY to LOS ANGELES
On the last day of the trip, the mission was to bee-line into LOS ANGELES in time for some of the riders to make their flights out before getting scrambled up into LA traffic (lane splitting is legal in California and one huge advantage of renting motorcycles in lieu of cars, only lane split if you are comfortable doing so).
If you have the time, Pismo Beach and Santa Barbara are two great places to stop and explore. The group strategically stopped in Santa Ynez (where many amazing wineries and vineyards are, and yea, the spot where the movie 'Sideways' was filmed).
Even with keeping a heavy pace, the riders eventually hit traffic and before reaching LOS ANGELES EAGLERIDER, they pulled off for some tacos. Back at LA EagleRider, the riders were welcomed by EagleRider staff, happy to hear all about their travels.
THE END
This route offers some amazing riding opportunities for the rider who needs to check-off an item from their top motorcycle rides bucket list. All of the riders had some riding experience, although not all on HARLEY-DAVIDSON MODELS. This route offers a ton of fun and may require refined riding skills that could be daunting to a new rider; just make sure to go at your own pace and to not outride your skills.
This route can and should be customized, check out other suggested routes between San Francisco, Los Angeles, and Las Vegas; Also known as THE GOLDEN TRIANGLE.
Join CLUB EAGLERIDER, accumulate some rental credits and use them to pay for the bikes next time you want to go riding. This is the most affordable way to ride different bikes in different cities. You can learn more about Club HERE.
None of the lodging was expensive, bikes can be paid for with CLUB EAGLERIDER CREDITS, and it's truly an attainable adventure that anyone can complete safely on any sized Harley-Davidson rental motorcycle.
We'll bring more adventures like this to share with you. For now, ride safe and we look forward to seeing you at one of our RENTAL LOCATIONS.
Receive Exclusive deals, rides and special events
Thank you for signing up!
EagleRider Privacy Policy
Yes! Please sign me up to receive the EagleRider newsletter and other emails and communications from EagleRider. By providing my personal information, I am consenting to its use and disclosure in accordance with EagleRider's Privacy Policy. I further consent to its use to serve targeted ads to me including via social media. I understand that I may withdraw my consent and unsubscribe from receiving future communications at any time. Consent is being sought by EagleRider.
Loading...
Forgot Password?
No worries, enter your email address and we'll help you choose a new password.