3-Day California Desert Trip Diary
Posted On: Apr 6, 2020
It's hard to find a motorcycle rider who doesn't work hard all day, every day. Most have to savor the short riding stints between juggling other responsibilities or try and pile on the miles over their two-day weekend (if they have it).
The Trip
It's hard to find a motorcycle rider who doesn't work hard all day, every day. Most have to savor the short riding stints between juggling other responsibilities or try and pile on the miles over their two-day weekend (if they have it).
You may go for a Saturday ride, or travel to one of our locations to enjoy a weekend of adventures. But what would happen if you added just one more day to your trip, making it 3 days now?
There are amazing places and destinations that are just another 200 miles away and adding one more day is often enough to make a fantastic route that takes you further into the open land.
So here we were, crew ready to hit the road, backpacks packed, bikes ready for us at EagleRider Los Angeles. We had 3 days ahead on our rentals and so much to see and do. The idea was to ride to amazing destinations, explore the desert, and have fun together connecting and socializing in the evenings.
The Crew
We reached out to Ninja Natalie, you may remember her from our ride from San Francisco to Los Angeles the month before. For most of the trips that we filmed last year, we always wanted to have a common friend among all riders. So Natalie picked her crew for this trip and everyone said Yes!
Sam, Blake, Bobbie, Andreas, and Natalie were our riders for the three days. Drew Martin, Jordan Lovelis and Max Junk took charge of capturing everything on photo and video.
The Route
The ride was planned for three days. We leave early morning and come back later in the evening on the third day. There are numerous places that are both beautiful and fun to ride to or even through, as in the case of Joshua Tree National Park. We wanted to keep a somewhat relaxed pace of riding and not squeeze high mileage in any of the days while also ticking off all the places we wanted to see on our list:
Idyllwild
Salton Sea
Bombay Beach
Salvation Mountain
Slab City (and East Jesus)
Joshua Tree National Park
Pioneertown
Day 1
We picked to go through the mountain pass through Idylwyld and come down into the desert to find our cozy home for the night.
Our bikes were ready to go as soon as the EagleRider Los Angeles opened for the day. Welcome name tags on all bikes, all of us pumped to be riding Harley-Davidson motorcycles and heading into the desert in November.
We didn't have any issues that day getting out of the busy streets and highways and had a nice late lunch in Idyllwild, where the fresh mountain air was a welcome change.
Day 2
The next day we roamed around the Salton Sea area and made several iconic stops - Bombay Beach, Salvation Mountain, and Slab City. The Palm Desert has numerous date plantations, and as we made our way down the eastern shore of Salton Sea, the sight of date palms for miles was a friendly reminder that we're in full moto vacation mode now.
Bombay Beach is a small community that is unlike anything you've seen before. It's a true apocalypse, Mad Max, Fallout, Burning Man gone bad type of view. You'll see furniture, boats, art installations, planes, mannequins right under the burning California sun.
It's not recommended to get into the water in the Salton Sea, but you can come close and take a peek. The Salton Sea was a popular resort in the Palm Desert around the 1960s. The water from the Colorado River floods would come down into what now is one of the largest inland seas and also one of the lowest spots on earth - Badwater Basin in Death Valley is another 60 feet below sea level (just a fun fact for reference).
When the engineers solved the flood problem, the 130 miles of shoreline slowly went from RV parks, boathouses, resorts, and water skiing attractions to what the Salton Sea is now - at times spooky place and nobody is suggested to stay around after dark.
The seashores are covered in fish bones and teeth. Fish cannot survive in the unstable waters where salinity levels long exceed the norm, mostly due to no outflow of salt compounds hence eliminating any chance for stabilization of the water suitable for living.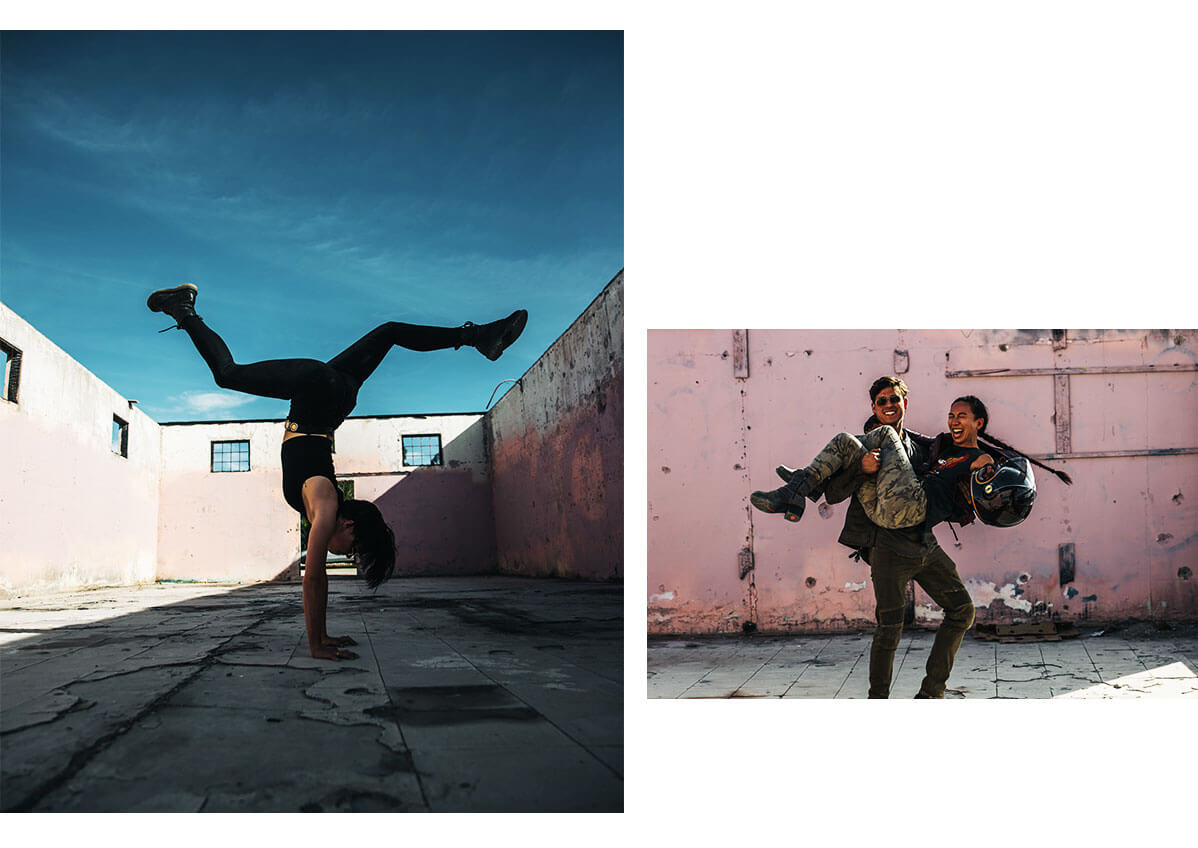 Let's come back to motorcycle riding, shall we?
The next stop on our list after a proper lunch in a nearby Mexican restaurant was Salvation Mountain. At this point, "strange" and "unique" sights were on a whole new level and leaving us in awe and amazement. We parked the bikes and climbed the top of the mountain, which is made from half a million gallons of lead-free latex paint. It took 28 years to complete this mountain.
From here, only a few short miles away, and nearing the sunset time within the next hour, we visited what is called East Jesus in Slab City. Slab City was built on an abandoned military base.
Many people think that federal laws don't apply there. In truth, they do but there is no government and no local laws, so you are free to build property how you want, it's free to live here, and is quite dangerous as well. There are no utilities and for about 150 residents life in RVs with solar power is the only means of traditional living in this land of outlaws.
East Jesus is an experimental art installation, a piece of land we'd normally consider your backyard turned into a sculpture garden. We parked our bikes, roamed around for about 20 minutes chatting with the locals who were sitting on the couch outside facing the little parking circle, and then happily departed back to the comfort of our rented house for the trip.
As we rode up to Indio, the colors of the landscape truly became something you typically see in paintings. We didn't have connected intercoms, but when we stopped for a quick break, all of us were taken aback by the beauty of the mountain reflections in the water and the warm orange sky slowly turning desert pink and purple.
We had a great dinner at our house, played games, had fun, and got ready for the final day ahead of us on this 3-day winter California desert adventure.
Day 3
On the last day, we cruised east on HWY 10 to get to the south entrance of Joshua Tree National Park. Most riders use two entrances off HWY 62: the North Entrance and the Main Entrance located near Twentynine Palms.
We opted in to take a longer scenic route through the third entrance where you have the road to yourself, especially on weekdays. Even at 35 miles per hour, the ride was incredibly enjoyable. The curves soothe you and you feel like hugging every corner. We stopped at Cholla Garden first.
Next on our list was Hidden Valley. Natalie used to spend all weekends during her college years climbing in Joshua Tree National Park, so in a way, it was like a homecoming, and the first time on a motorcycle here.
We made our way to Pioneertown for a classic American lunch with ribs, delicious salads, and in great company. It was also about time to head back to Los Angeles and return our bikes.
Even though everyone knew Natalie, none of us knew other riders on the trip. It was an amazing time of bonding and sharing these fun and at times unusual views on this trip. We had so much fun it's hard to put this trip into words. Wouldn't you say that's how most motorcycle trips end?
The End
In these three days, we had one of the best 3-day moto vacations possible. All it really takes is one extra day off work and you've got the perfect setup to re-create a trip for yourself. We all love weekend rides but rarely treat ourselves for multiday adventures that truly are what refreshes us and helps us to find inner balance.
If you enjoyed this trip and this route, here are a few more suggestions for routes and itineraries:
Receive Exclusive deals, rides and special events
Thank you for signing up!
EagleRider Privacy Policy
Yes! Please sign me up to receive the EagleRider newsletter and other emails and communications from EagleRider. By providing my personal information, I am consenting to its use and disclosure in accordance with EagleRider's Privacy Policy. I further consent to its use to serve targeted ads to me including via social media. I understand that I may withdraw my consent and unsubscribe from receiving future communications at any time. Consent is being sought by EagleRider.