Ben's Solo Ride Through the Arizona Desert
Posted On: Apr 10, 2020
A western photographer by trade, Ben Christensen has always loved riding solo. Recently, Ben took to the pavement of his home state, Arizona, for a 3-day solo adventure.
A western photographer by trade, Ben Christensen has always loved riding solo. Recently, Ben took to the pavement of his home state, Arizona, for a 3-day solo adventure.
His longtime friend, fellow photog, and solo ride enthusiast Ben Thompson joined in on the fun to snag some epic shots of their journey. Here it is.
BEN'S STORY
It's kind of funny—unlike many people, I didn't get a bike to get out there with my friends. I mean, don't get me wrong, riding with buddies is such a treat. There's a camaraderie on the open road that's pretty much unmatched. But for me, riding has always been just that: for me.
I'm on my bike every day. If I'm working on-site, I ride to work. I take my bike to snag groceries for my wife and kids. If I'm traveling for a shoot, I try to ride to the destination instead of flying. I just love how I feel when I'm out there on my bike all on my own.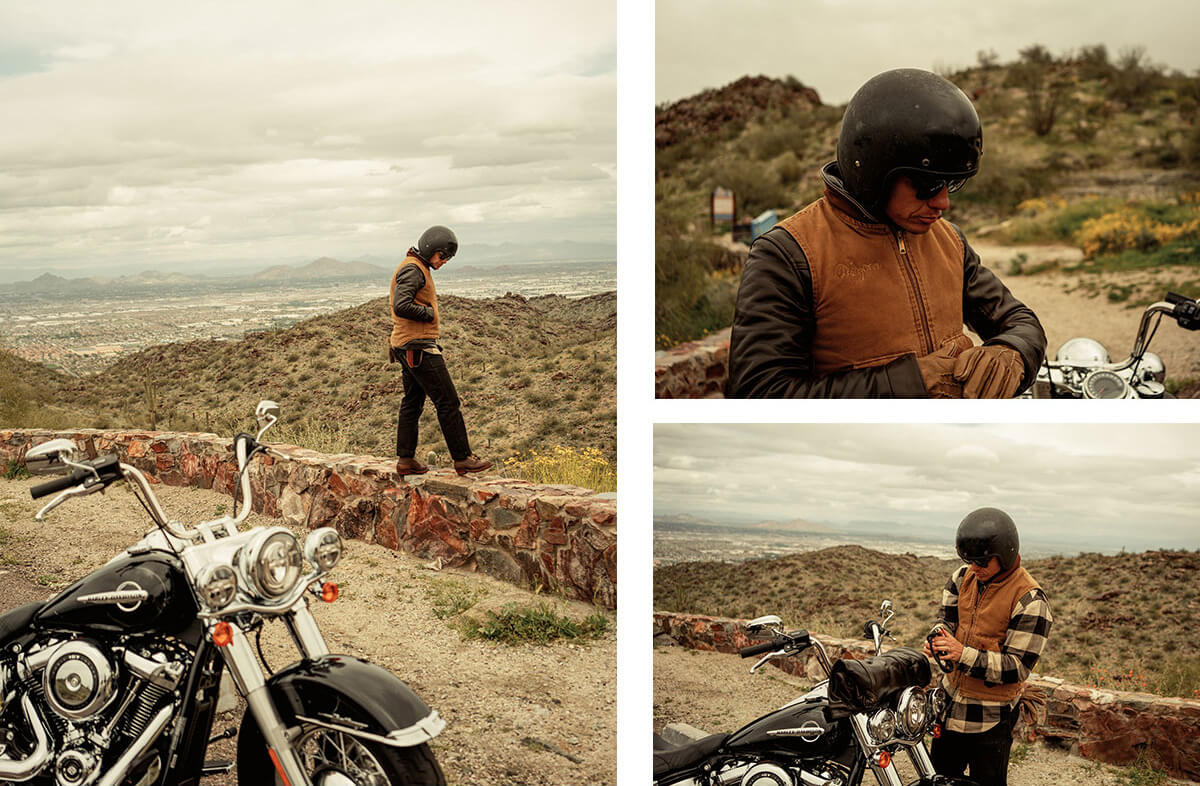 TOP 3 REASONS FOR RIDING SOLO
My top three reasons for solo riding are pretty simple.
When you're out there alone, you don't need to have a plan. In fact, it's often best if you don't. Well, that and you don't need to answer to anyone except for your bike and the road.
In much the same way that a solo trip lets you be the master of your own ride, it also makes you the master of your own thoughts in a new, fresh way unlike any other.
There's no better time than on a solo ride to reflect on the past, present, and future. But in order to reap the benefits of a solo ride, you need to be prepared.
WHAT TO PACK
I love packing for a trip because it reminds me that simple is always, always best. And really, you don't have much of a choice when it comes to taking up space on your bike, so I'm always sure to pack only the essentials. This means layers: my best pants, a favorite short sleeve, flannel, sweater, my favorite leather jacket, a raincoat, vest, boots, and gloves. That's it.
Then, what I'm not wearing fits in my bag and goes on my sissy bar. I layer up and take off as needed. If the weather shifts and I suddenly need my raincoat—it's right there. I get hot? My leather comes off. I keep it simple, easy.
And of course, as a photographer, whether I'm riding for a job or for fun, I usually have my camera. That means all my photography gear goes in my saddlebags for simple access. I just pull over and grab whatever I need, when I need it. Again: easy.
Because I've been riding in Arizona for, well, ever, I've got some favorite routes down pat.
THE TRIP ROUTE
Most recently, I went from Mesa to Parker, AZ. I love Parker for the open road-route I can take getting there, but also for its awesome people, great bars, and ample access to hotels and campsites right along the Colorado River. It feels like an unexpected desert oasis.
For this trip, I'd planned to go through Phoenix, cruise up through Wickenburg, and hit a back route to Parker. The weather changed my plan, but as is true of most adventures… it worked out perfectly. I ended up taking a totally new route and seeing some sights I didn't know existed!
My first day on the road was super wet, which was tough… thankful for that raincoat! But I got great sleep at a sweet little motel along the way, and my stuff was able to dry out, setting me up well for a comfortable day two.
And it was: sunny and sort of warm with just a bit of rain on and off. Again… really happy to have my layers. The second night was also when I got to Parker. I went to this awesome bar along the river called Foxes Floating Bar. The people are kind and engaging, and the food is delicious. If you find yourself in the area, you've got to go.
Then that night I stayed at Blue Water Casino, which is a pretty classic spot in the area that overlooks the Colorado River. It's truly gorgeous.
The way back home was warm and beautiful. And because I wasn't really worried about rain or the road, I took that time to really reflect. Every time I get back from a solo trip, my mind is so clear. In a way, I really feel like taking these trips makes me a better version of myself; a more appreciative version of me.
I'm often asked for solo trip advice. And honestly, my tips are so simple, but I still abide by them every single ride.
Be flexible. Ride for you. Enjoy the journey.
WHERE TO GO FROM HERE
We loved seeing how Ben traveled solo on this ride. He also surprised his dad a few months ago with a father-son ride in Arizona.
If these trips inspire you to ride more, we encourage you to explore our motorcycle rental models, look at tour itineraries, reach out to our team for custom planning help, and see more stories like this on the blog.
Until next time, ride safe!
Receive Exclusive deals, rides and special events
Thank you for signing up!
EagleRider Privacy Policy
Yes! Please sign me up to receive the EagleRider newsletter and other emails and communications from EagleRider. By providing my personal information, I am consenting to its use and disclosure in accordance with EagleRider's Privacy Policy. I further consent to its use to serve targeted ads to me including via social media. I understand that I may withdraw my consent and unsubscribe from receiving future communications at any time. Consent is being sought by EagleRider.
Loading...
Forgot Password?
No worries, enter your email address and we'll help you choose a new password.