Arizona Father & Son Ride on Harley-Davidson Rentals
Posted On: Mar 20, 2020
Western Photographer Ben Christensen goes on a long ride in his home state of Arizona. This time, he's able to bring along someone he's been wanting to ride with for a while - his father.
Western Photographer Ben Christensen goes on a long ride in his home state of Arizona. This time, he's able to bring along someone he's been wanting to ride with for a while - his father.
Ben teamed up with another Ben from Ben and Bluebird to capture these moments on photo and video.
This trip was a 3-day ride in November, a great option for winter riding out of Phoenix to escape the snow and enjoy some warmer weather.
Father-Son Bond
Ben grew up in Tempe, AZ and was raised to love the outdoors. During summers and on weekends, he'd go horseback riding, horse packing in the mountains, camping and hiking for days or weeks at a time, backcountry skiing, water skiing, you name it.
It was against the vast, beautiful landscape of Arizona that his dad taught him what it means to live joyfully and with purpose. His dad instilled in Ben deep respect and reverence for the great outdoors, where he spent so much of his time.
Picking Up The Rentals
Ben rented a Harley-Davidson Heritage Classic motorcycle and a Harley-Davidson Road King through EagleRider Phoenix. They set out with a relatively relaxed plan to hit some classic western history spots, and of course, a few for memories' sake.
After EagleRider Phoenix, they stopped to pick up a few Harley-Davidson gear items from Scottsdale Harley-Davidson, where we also have a rental pickup and drop-off spot.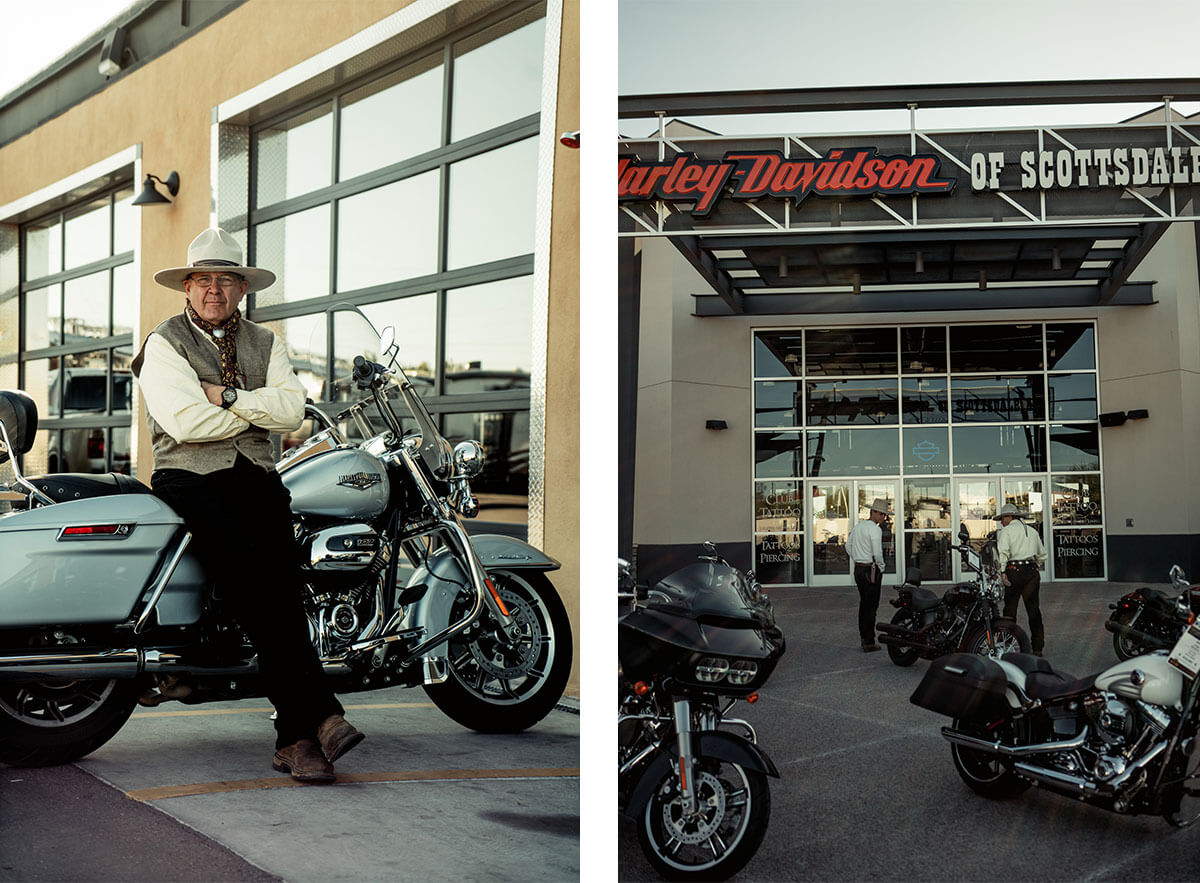 The Route
You can go in many directions on your rides in Arizona. There is amazing riding near Jerome and Sedona, fantastic routes on HWY 191, Mount Lemmon ride into higher elevations is phenomenal, and of course, Apache Trail and rides around Saguaro National Park are ones for the books. Here was the route for Ben's trip with his dad in November.
The first stop they made was Canyon Lake. It's a special place for Ben and his father. Growing up, Ben's parents would take all of his brothers and sisters out on the lake every Monday. They'd pick up Albertson's chicken on the way and water ski until it got dark.
Then they'd eat as a family while the sun set. Ben mentioned, "Riding up to Canyon Lake on a Harley, my dad by my side, visiting this place that meant so much to both of us back then, and still does today—it was such a gift."
Tortilla Flats and Goldfield
Tortilla Flats is a great little place to visit. Located on the way to Roosevelt, with a campground at the basin of Canyon Lake, it has a working bar and a store. The Apache Trail, designated as Route 88, is currently closed for reconstruction after heavy rains destroyed the narrow mountain pass roads. But soon enough the riding will resume again and you'll be able to ride futher east from Tortilla Flats.
On the way to Phoenix, a short detour away is Goldfield Ghost Town, built in place of the original town of Goldfield. These days it serves as a tourist attraction, has a fantastic bar, and really embodies the spirit of the Old West lifestyle.
Tuscon and Saguaro National Park
From there, Ben and his father made their way to Tucson and Saguaro National Park, two places that are classically Arizona, and both must-sees. All along the way, they stopped at classic, western-style bars to eat and talk about the route and all the gorgeous things they saw along the way.
At the end of the ride, Ben concluded:
"I've ridden countless miles along too many gorgeous routes to count since I started riding Harleys, but this was, without a doubt, my most memorable trip to date. My entire life, my dad's been the one showing me the ropes. It felt like giving back to him just the tiniest bit for all of those experiences he gave me as a kid. It was everything I'd hoped for and then some. It's only been a few months since we took to the road, and my dad already can't wait for our next trip. And I'll tell you what... neither can I."
END
The motorcycle rentals shown are a Harley-Davidson Heritage Classic and a Road King.
Want to go on your own GETAWAY? Enter to win the ULTIMATE STURGIS EXPERIENCE that included rentals, Pappy Hoel Campground stay, and more. Enter HERE.
Join CLUB EAGLERIDER, accumulate some rental credits and use them to pay for the bikes next time you want to go riding. This is the most affordable way to ride different bikes in different cities. You can learn more about Club HERE.
Bikes can be paid for with CLUB EAGLERIDER CREDITS, and it's truly an attainable adventure that even someone who just started riding 3-6 months ago can complete safely on any size motorcycle.
We'll bring more adventures like this to share with you. For now, ride safe and we look forward to seeing you at one of our RENTAL LOCATIONS.
Receive Exclusive deals, rides and special events
Thank you for signing up!
EagleRider Privacy Policy
Yes! Please sign me up to receive the EagleRider newsletter and other emails and communications from EagleRider. By providing my personal information, I am consenting to its use and disclosure in accordance with EagleRider's Privacy Policy. I further consent to its use to serve targeted ads to me including via social media. I understand that I may withdraw my consent and unsubscribe from receiving future communications at any time. Consent is being sought by EagleRider.