About Us

Overview
EagleRider has over 22 years of experience within the powersport rental industry. We are seeking franchisees who are highly motivated business people with a passion for quality and service. With our advanced systems and training solutions we set the standard for quality, brand recognition, and leadership within the powersport rental industry.
EagleRider is an iconic industry brand within the powersport rental industry. We invite you to reap the benefits of our success. The EagleRider brand is the category leader with over a seventy locations worldwide. We are currently seeking EagleRider franchisees in key tourist destinations and major metropolitan markets domestically and internationally. Check out a few of our Market Opportunities.
What do we look for in a Franchisee?
We look for business acumen and a passion for providing superb customer service. We are particular about our franchisees because they all contribute to our success, one franchise location at a time. We are seeking only top visionaries who are committed to building a customer focused and performance-driven business.
We invite you to look around our site to better understand this unique franchising opportunity.
EagleRider History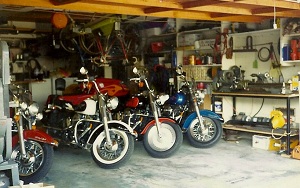 EagleRider Motorcycle Rental was founded in 1992 and operated the first location out of a garage in Newport Beach, California, with four Harley-Davidson® motorcycles. EagleRider started by catering mostly to baby boomer motorcycle enthusiasts with biker gear and rentals for day trips or longer excursions.
Today, EagleRider has grown into the largest international powersport rental and tour company with more than 70 locations across the United States and worldwide.
Why EagleRider
Confidence
Investment in the EagleRider brand yields the confidence of knowing you're aligning yourself within a dynamic business model. Our respected brand leads the powersport rental industry.
Experience
EagleRider has over 22 years of operating experience within the powersport rental industry.
Marketing & Advertising
Brand recognition, corporately managed national/international advertising and media campaigns, local marketing support, and promotions to maximize sales.

EagleRider connects you to a worldwide marketing and reservation system that allows customers to speak directly to a reservation specialist, which helps drive more customers into your store.

We drive powersport rentals and tour reservations to your business via our worldwide connectivity to Tour and Travel companies resulting in longer average rental contracts.
Training Programs
Prior to opening an EagleRider franchise, our franchise and designated manager are recommended to attend EagleRider's comprehensive training program conducted at World Headquarters in Hawthorne, CA. Our training program will provide you with the knowledge and tools you will need to run an EagleRider franchise.

We have a dedicated operations team that offers dealer training and support to our franchisees.

EagleRider provides its franchises access to our central reservations department that is available to make reservations for you and assist yours customers seven days a week.

EagleRider provides each franchisee with a micro website on www.EagleRider.com, where customers have the ability to make online reservations 24 hours a day 7 days a week.

If you believe you've got what it takes to be a franchisee, please fill out our Franchise Inquiry Form