مطار لوس أنجلوس تأجير دراجات نارية ورحلاتها
اعرض اكثر
دراجات نارية مميزة في مطار لوس أنجلوس
| الاسم | قيمة |
| --- | --- |
| Harley for the Holidays: 7-Day Rentals for $299 - U.S. Residents Only | ر.س3,912.40 ر.س1,121.58 |
| Harley for the Holidays: 14-Day Rentals for $449 - U.S. Residents Only | ر.س7,824.79 ر.س1,684.24 |
| Harley for the Holidays: 30-Day Rentals for $899 - U.S. Residents Only | ر.س16,767.42 ر.س3,372.24 |
| Rentals Early Bird Special | 5% مغلق |
| Take The Ultimate Test Ride - Rent a Late Model Harley-Davidson® for $99/Day - USA RESIDENTS ONLY | ر.س633.94/يوم ر.س371.36/يوم |
| Ride Into Sturgis | ر.س633.94/يوم ر.س371.36/يوم |
| Coast to Coast - Los Angeles to Orlando | ر.س780.23/يوم ر.س333.85/يوم |
| Active Police, Firemen, Military, and Veterans - 5% Off Your Next Rental *Available for USA Residents | 5% مغلق |
ايجل رايدر مطار لوس أنجلوس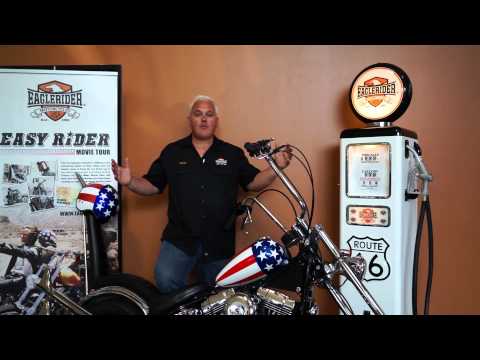 مرحبًا في ايجل رايدر لوس أنجلوس؛ هي مكان يضُم بعض أفضل جولات الدراجات النارية بالعالم على مدار العام بما فيها من مناخ طيب وتضاريس ممتعة! نقع بشكل مميز على بُعد أقل من عشرة دقائق من مطار لوس أنجلوس الدولي (LAX) ومجموعة كبيرة من الفنادق ذات الأسماء التجارية المعروفة.
ايجل رايدر لوس أنجلوس هي بمثابة أفضل نقطة بداية لراكبي الدراجات النارية الحالمين بتجربة الطريق السريع لساحل المحيط الهادي أو المسار 66، أو الحدائق القومية المذهلة، أو أي من طرق الدراجات النارية الأسطورية والتي جعلت من الولايات المتحدة الغربية قبلة لعشاق الدراجات البخارية. موقعنا في لوس أنجلوس بمثابة جنة الدراجات البخارية، وذلك بتوافر أكثر من 20،000 قدم مربع من دراجات Harley-Davidson، وIndian، وTriumph، وBMW، وHonda، وجاهزين ليقدموا لك تجربة أحلامك للدراجة النارية المستأجرة أو للرحلات.
وكما هو الحال في كل من مواقعنا بشمال أمريكا والتي تزيد عن 70 موقع، فإن ايجل رايدر لوس أنجلوس يُسعدها تقديم استخدام مجاني لخوذة الدراجات النارية المعتمدة من وزارة النقل لراكبي الدراجات النارية والمسافرين. وبالطبع إذا كنت تريد أن تشعر بالجنون في تجربة ركوب الدراجات النارية، فعليك بالتأكيد تجربة صالة عرض الملابس والبضائع المثيرة للإعجاب الخاصة بنا، حيث يمكنك شراء آخر صيحات الموضة من الخوذ وأحذية ركوب الدراجات والقفازات الجلدية المخصصة والسترات والقمصان القطنية، هذا بالإضافة إلى منتجات حصرية من دبابيس وخاتم وأوسمة الشرف الخاصة بايجل رايدر.
كما توفر شركة ايجل رايدر لوس أنجلس غالبية الدراجات النارية الخاصة بالرحلات مثل Indian Chief Vintage، وIndian Chieftain، وElectra Glide، وStreet Glide، وRoad King، وFat Boy، وHeritage Softail، وهو ما يجعلنا أفضل خيار لمستأجرين دراجات Harley وIndian.
مواصفات إضافية للموقع:
حافلة تنقل مجانية من الفنادق المجاورة(7أميال أو أقل) للعملاء المستأجير ل3 أيام أو أكثر.
مكان لتخزين الأمتعة
خدمة الدراجات النارية
أماكن مؤمنة مخصصة لصف السيارات بالمجان
Dirt bikes، ATV's ،و trikes متاحة لإيجار
ملابس خاصة بالدراجات النارية وكمالياتاها
العنوان

11860 S. La Cienega Blvd.
Los Angeles , كاليفورنيا, 90250
ساعات
Sunday to Saturday من 09:00 am to 05:00 pm
الاتجاه من مطار لوس أنجلوس الدولي: اتجه شرقًا نحو سينشري بيلفد ثم انعطف يمينًا تجاه إس. لا سينيجا بيلفد. اتجه جنوبًا نحو لا سينيجا، وخلال 1 ميل سوف تعبر طريق إمبيريال بيلفد. نحن أول مجموعة مباني على اليسار.
أجرة التاكسي المقدرة من مطار لوس أنجلوس الدولي (LAX) هي 20.00 دولار أمريكي
أحداث و رحلات الدراجات النارية في مطار لوس أنجلوس