كريس ماكانتاير، الرئيس التنفيذي، مؤسس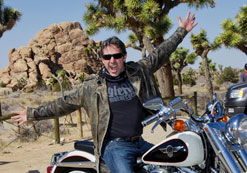 يشرف رئيس ايجل رايدر، كريس، على كل شئ في الشركة. يتضمن ذلك كل مهام التسويق، العلاقات العامة، التطوير التقني وتكوير المنتج بالاضافة للترويج للعلامة التجارية لايجل رايدر.
درس كريس الاقتصاد بجامعة ويسكونسن-ماديسون وكان يلعب بفريق الجامعة للهوكي. عمل كريس بعد تخرجه في مؤسسة NCR، وهناك قابل جيف براون. لم يستغرقا وقتاً طويلاً حتى لاحظ الاثنان الفجوة في سوق تأجير الدراجات النارية و أسسا ايجل رايدر.
جيف براون، الرئيس الاداري، مؤسس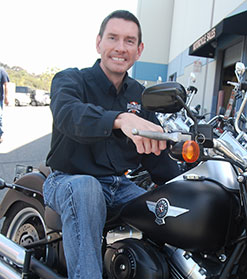 كانت دراجة جيف النارية 1987 Harley-Davidson Lowrider Sportمن أول أربع دراجات نارية تم استئجارها من مرآب سان بيدرو. يوفر جيف حالياً أعلى مستوى من التخطيط الاستراتيجي، الدعم، والتنفيذ لايجل رايدر. كما أنه يشرف على مبيعات الامتياز و دعم الفريق. بالإضافة الى الإشراف على العقود والايجارات التي تعقدها الشركة مع البائعين و الملاك المختلفين.
حصل جيف على بكالوريوس إدارة الأعمال من جامعة ميتشيجين ثم أكمل الماجستير بجامعة بيبردين. عمل جيف في شركة NCR لمدة سبع سنوات في المبيعات و التسويق. قبل أن يشارك في تأسيس ايجل رايدر. وقبل أن يكون الرئيس الاداري كان جيف الرئيس التنفيدذي والمالي حيث كان يشرف على كل عمليات الشركة و كل ما يتعلق بشؤون العاملين. كما أنه أنشأ قسمي الموارد المالية و المحاسبة.
الدارجة النارية المفضلة: The 1987Harley-Davidson Lowrider Sport.
Richard Wolff - Chief Operating and Financial Officer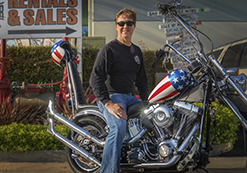 EagleRider's Chief Operating and Financial Officer, Richard, oversees all operational and financial aspects of the company. This includes all stores functions, operations, fleet, accounting, finance, treasury, Human Resources and EagleRider Finance.
Richard has extensive experience running operations and finance for various industries including rental car, real estate, manufacturing, industrial engineering, hospitality, building materials, construction and various others. Richard received his bachelors degree in Economics/Business from the University of California – Los Angeles. He is also a CPA in the state of California.
Hal Oreif – Chief Technology & Revenue Officer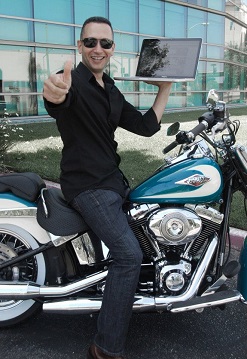 Hal Oreif joined EagleRider as Chief Technology & Revenue Officer in 2012 overseeing technology strategy and operations, web & mobile development, corporate IT systems and applications, search technologies, marketing and revenue after selling his startup to a public company. Before his last startup, Hal was CTO/CIO in IAC/InterActiveCorp for 3 years.
Hal also served for 9 years as CTO in Warner Bros working on brands such as Harry Potter and The Matrix. Before WB, Hal served for 7 years in the financial sector as Director of software engineering. His first startup was an ERP company that was taken public. Hal has a Master's Degree & BS in Computer Science. He also went to UCLA Anderson School of Management.