Chris McIntyre - Chief Executive Officer, Founder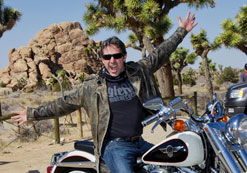 EagleRider's president, Chris, oversees all aspects of the company. This includes all marketing functions, public relations, technology and product development, and the promotion of the EagleRider brand.
Chris studied Economics at the University of Wisconsin - Madison where he also played US College Hockey. Shortly after school Chris started working at NCR Corporation where he met Jeff Brown. It didn't take long before the two noticed a void in the motorcycle rental business and founded EagleRider.
Jeff Brown - Chief Administrative Officer, Founder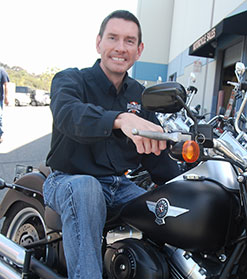 Jeff's 1987 Harley-Davidson Lowrider Sport was one of EagleRider's first four motorcycles that were rented out of the San Pedro garage. Currently Jeff provides top level strategic planning, support, and execution for EagleRider. He oversees the franchise sales and support team and also oversees all contracts and leases that the company engages in with various vendors and property owners.
Jeff received a bachelor's in Business Administration from the University of Michigan and then completed his masters at Pepperdine University. Before co-founding EagleRider Jeff worked at NCR Corporation for seven years in sales and marketing. Prior to becoming EagleRider's Chief Administrative Officer, Jeff served as our Chief Operating Officer and Chief Financial Officer where he oversaw all company operations and HR related issues. He also started the finance and accounting departments.
Favorite motorcycle: The 1987 Harley-Davidson Lowrider Sport.
Richard Wolff - Chief Operating and Financial Officer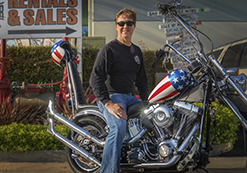 EagleRider's Chief Operating and Financial Officer, Richard, oversees all operational and financial aspects of the company. This includes all stores functions, operations, fleet, accounting, finance, treasury, Human Resources and EagleRider Finance.
Richard has extensive experience running operations and finance for various industries including rental car, real estate, manufacturing, industrial engineering, hospitality, building materials, construction and various others. Richard received his bachelors degree in Economics/Business from the University of California – Los Angeles. He is also a CPA in the state of California.
Hal Oreif – Chief Technology & Revenue Officer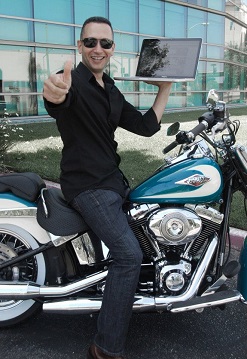 Hal Oreif joined EagleRider as Chief Technology & Revenue Officer in 2012 overseeing technology strategy and operations, web & mobile development, corporate IT systems and applications, search technologies, marketing and revenue after selling his startup to a public company. Before his last startup, Hal was CTO/CIO in IAC/InterActiveCorp for 3 years.
Hal also served for 9 years as CTO in Warner Bros working on brands such as Harry Potter and The Matrix. Before WB, Hal served for 7 years in the financial sector as Director of software engineering. His first startup was an ERP company that was taken public. Hal has a Master's Degree & BS in Computer Science. He also went to UCLA Anderson School of Management.