EagleRider Chicago - Triumph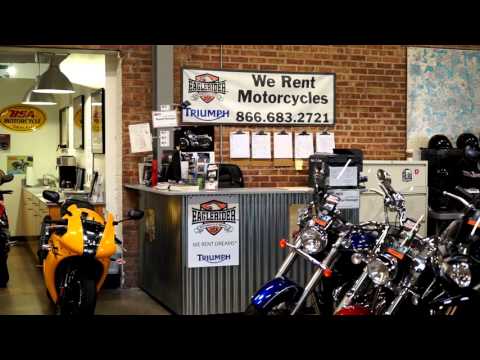 Chicago, Illinois is the beginning of Historic Route 66, starting from the bustling metropolis of the Windy city and culminating at the beautiful waters of the Pacific Ocean in Los Angeles, California. The Mississippi River, the Grand Canyon, the Saint Louis Arch—all things you can see on your once-in-a-lifetime motorcycle trip across the heart of America.
Take a motorcycle tour through the greatest city in the world. Catch a baseball game at Chicago's historic Wrigley Field, then Ride down Lake Shore Drive to see the "Tall Ships" historic sailing vessels exhibit at Navy Pier. Cruise up the "Magnificent Mile" through Chicago's Gold Coast and stop by Willis (formerly the Sears) Tower—the tallest building in North America—and get a view of four different US states from the 1,353 foot (412m) high observation deck.
Of course, Chicago is just one part of what Illinois has to offer. Hundreds of rural highways run south and east, affording a beautifully serene view of Indiana's amber waves of grain, and then take a trip through the winding tree-lined hills of the Illinois River valley to Starved Rock State Park. You can head north into the thickly wooded Kettle Moraine Valley and see the world-renowned dairy farms of Wisconsin, or tour the Great Lakes in all their splendor with a trip around Lake Michigan—the 3rd largest lake in North America.
The reasons for motorcycle rental can be even simpler than that. Why pay money for a boring sedan, when you can ride a motorcycle instead? Got a friend visiting from out of town? Rent a pair of bikes and show them around. These are just a handful of the limitless ways in which EagleRider of Chicago can help you plan the perfect trip.
Additional Location Features
Complimentary shuttle pick up from neighboring hotels (7 miles or less)
Locked storage closet for your suitcases
Free parking in our secured lot
Motorcycles service
Motorcycles apparel and accessories